Rare wildcats appear on 'endangered' stamps
Plight of the 'Scottish Tiger' highlighted through Royal Mail campaign.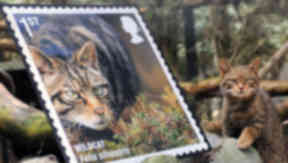 A Scottish icon which is rarer than the Bengal tiger stars on a new wildlife stamp launched by the Royal Mail today.
The Scottish wildcat is one of ten mammals to feature on a series of Action for Species first-class stamps which highlight the UK mammal population's struggle for survival.
Wildcats have become extremely rare and experts believe there could be as few as 400 left in the wild, making them one of Britain's most endangered species.
The new stamp features Seasaidh, a three-year-old Scottish wildcat from Highland Wildlife Park near Kingussie.
Other mammals to feature on the stamps include the polecat, humpback whale, otter and water vole.
Ian McKay, Royal Mail director of Scottish affairs said: "These stamps allow us all to have our own collection of miniature mammals including the Scottish Wildcat.
"They will also deliver an important conservation message through millions of letter boxes, highlighting just how important it is to safeguard the future of the diverse range of mammals which inhabit the UK and its shores."
The Scottish wildcat, sometimes called the Highland tiger, is seriously threatened by interbreeding with domestic cats.
Last year the Cairngorms Wildcat Project was set up in 2009 to save the endangered animal from extinction in one of its most important strongholds - the Cairngorms National Park.
The project aims to raise awareness of the wildcat's plight, encouraging responsible cat ownership, neutering feral domestic cats and working with land managers to monitor the wildcat population.
Dr David Hetherington, Cairngorms Wildcat Project Manager, said: "The wildcat is such an iconic animal for the people of Scotland but sadly is now seriously endangered.
"However, if everyone pulls together, for example by making sure their pet cats are neutered and vaccinated and by reporting wildcat sightings, I'm sure we can save our Highland tiger from extinction."
The other mammals to feature on the stamps are the brown long-eared bat, sperm whale, greater horseshoe bat, dormouse and the hedgehog.
Mammals are the fourth issue in the Action for Species series, which highlights the plight of indigenous flora and fauna.
The series began with birds in 2007 and continued with insects and plants in subsequent years.