Fisherfield Munro demoted to Corbett status after coming up short in survey
Beinn a'Chlaidheimh near Ullapool in the Highlands is no longer a Munro.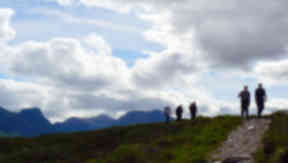 Scotland has one less Munro after Beinn a'Chlaidheimh was demoted to Corbett status after coming up short in a survey.
The hill, which is near Ullapool in the Highlands, was known as being part of the Fisherfield Six set of Munros.
But the Scottish Mountaineering Club has now announced a change in the status of Beinn a'Chlaidheimh, which rises above Strath na Sealga in Wester Ross.
A mountain over 3000ft can be classified as a Munro, while one between 2500ft and 3000ft is called a Corbett.
Last summer The Munro Society measured peaks in the Fisherfield area, between Loch Maree and Loch Broom in the Highlands.
Organisers looked at Ruadh Stac Mor, Beinn a' Chlaidheimh and Beinn Dearg Mor.
Beinn a' Chlaidheimh was found to be just under the required 3000ft required for a Munro.
The society said any re-classification decision would be made by the Scottish Mountaineering Club which issues the tables listing Scotland's Munros.
The club has now listed the hill as a Corbett.
When measuring heights of mountains below and above the 3000ft mark the Munro Society follows in the tradition of accurate measurement established by Sir Hugh Munro who first produced the Munro's Tables in 1891.
Satellite technology is now used to achieve greater accuracy.
Rab Anderson, editor of Scottish Mountaineering Club Hillwalkers' Guidebooks, said: "Beinn a'Chlaidheimh was re-measured by a team of independent surveyors. The Ordnance Survey accepted the height data from this team of surveyors, the equipment used and the methodology. The SMC waited to see whether the OS would amend their maps.
"The OS duly amended their maps to show the new height of Beinn a'Chlaidheimh as being 914m. Since the SMC uses OS height data and 914.4m is the metric equivalent of 3000ft, then the SMC accepts that at 914m Beinn a'Chlaidheimh can no longer be classed as a Munro. Accordingly Beinn a'Chlaidheimh is now a Corbett."

View Beinn a'Chlaidheimh in a larger map