Western Isles wind farm to bring £40m to economy and create 75 new jobs
The Scottish Government has granted planning consent for a wind farm west of Stornoway.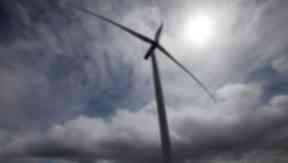 Around 75 new jobs in the Western Isles are to be created after the Scottish Government granted planning consent for a 36-turbine wind farm.
It is to be built 1.5km west of Stornoway, Lewis and will generate 129.6 megawatts electricity (enough to power 60,000 homes).
Energy Minister Fergus Ewing said it will support 75 jobs in the Western Isles and generate contracts worth £40m to the local economy.
The Scottish Government hopes the wind farm will bolster the case for the Western Isles sub-sea cable which would free up the area's renewable potential to generate electricity for the mainland, including for emerging marine energy technology.
The original application had 42 turbines but RSPB and Scottish Natural Heritage (SNH) raised objections about the potential impact on the Lewis Peatlands special protection area.
The developer, Lewis Wind Power, a joint venture between consultancy and engineering firm Amec and energy firm EDF, is said to have worked with both groups to find a solution, while Mr Ewing withheld consent for the six turbines which would have had the most impact on the area.
Mr Ewing said: "I'm delighted to consent the Stornoway wind farm which will represent a significant boost to the economy of the Western Isles and create jobs during construction and in the longer term.
"Once it is up and running, the wind farm will save thousands of tonnes of carbon dioxide each year and will produce enough electricity to power more than 60,000 homes. I am confident that the wind farm will provide great benefits to its local community and play an important part in helping Scotland reach its target of the equivalent of 100% of electricity demand generated from renewables."
Ron Peddie, project director for Lewis Wind Power, said: "From the very beginning we have sought to develop a wind farm based on the wishes of the local community. The development team is particularly pleased by the support shown by the public throughout the consultation process and we are confident that they will be pleased when the final wind farm is constructed.
"The investment represented by the Stornoway wind farm is significant and, wherever possible, we will seek to use the local supply chain in order to maximize the social and economic benefits for the islanders. We look forward to working with the local community as we move towards the next phase of development."
Angus Campbell, leader of Comhairle nan Eilean Siar (Western Isles Council), said: "The comhairle fully supports this development which will provide significant economic benefits to the Outer Hebrides. The Stornoway wind farm will provide a multimillion-pound cash investment into the economy of the islands, providing much-needed employment whilst contributing to the fight against climate change."