Best black pudding in Scotland: Ross-shire butcher scoops award
Fraser Brothers of Dingwall named makers of the finest blood sausage in the land.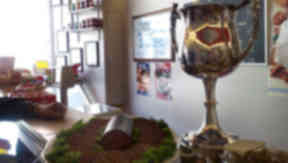 A Ross-shire butcher is celebrating after scooping the top prize for the best black pudding in Scotland.
Fraser Brothers in Dingwall fought off stiff competition from ten other contenders to take the coveted title.
Shop Manager, Graham Mowat was delighted by the success. He said: "That's brilliant news. Since we were awarded the North of Scotland title in Elgin in May, sales of black pudding have steadily picked up but to be Scottish Champions will be a major boost.  Now there are even more reasons for tourists to come into Dingwall."
The award winning recipe is being kept under wraps but the butchers say their customers have been key in developing the top taste.
"Our recipe has been perfected over the years to meet our customers' tastes.  They appreciate our black pudding and I hope that others with come and savour what is now officially the best."
This competition, organised by the Scottish Federation of Meat Traders, attracted almost 100 entries.