Walkways installed on A9 to help reduce otter deaths on the road
Tunnels have been installed between Inverness and Thurso and the A82 to Fort William.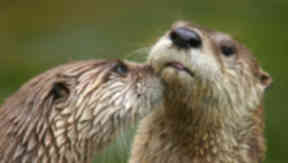 Otters have been given new underground crossroads to help stop the increasing number of road deaths on the A9.
The tunnels have been installed between Inverness and Thurso to help the otters move between territories.
Scotland Transerv and Transport Scotland introduced the safety measures in an effort to cut the number of the creatures dying on the roads.
A Scotland Transerv spokesman said: "When the trunk road network was built little consideration was given as to how otters would cross the road.
"They have large territories and need to move around with them. When river flows are low, there is usually not a problem.
"But under high flow conditions following wet weather otters are reluctant to pass through existing culverts or under bridges are instead are forced to risk crossing the road.
"Traffic accidents are the single biggest cause of deaths for otters in the UK."
The new underground walkways have been installed at hotspots where high numbers of otter fatalities have been recorded.
Other measures put in place to help the animals include the installation of warning signs to notify drivers and the installation of 100 reflectors which will discourage otters from crossing.
Another road that has had the works installed is the A82 Inverness to Fort William road near Loch Dochfour.
A spokesman for Transport Scotland said: "It is not claimed these measures will be 100% effective. However by continuing to monitor the sites it can be determined which measures are working best and lessons put into practice for the future.
"Anything that can be done to reduce the otter deaths on our roads has to be a good thing."