Remote Highland communities given high-speed broadband boost
The Small Isles are among the first places to benefit from a wireless network based at the Gaelic College on Skye.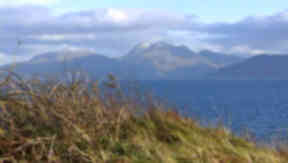 Some of Scotland's most isolated communities are to benefit from a superfast broadband project based at the Gaelic College on Skye.
The Small Isles of Eigg, Rum, Muck and Canna are among the first places expected to be connected to a wireless relay network with the Sabhal Mor Ostaig at its hub.
The technology, which will give rural areas faster internet access than most cities, has been developed with the help of experts at the University of Edinburgh and the University of the Highlands and Islands.
Local firm HebNet has helped to extend the facility to communities across the north-west Highlands.
The project, called Tegola, means small rural communities will no longer be excluded from high-speed broadband because the nearest telephone exchange is too far away.
Researchers are hoping the scheme can be rolled out to other rural communities if it proves a success.
Professor Peter Buneman, of the University of Edinburgh's School of Informatics, said: "I am delighted to see our scheme bringing the benefits of the web to these remote communities and hope that, with further support, our system can be implemented in more places like these."
Nicola Sturgeon, Cabinet Secretary for Infrastructure, Investment and Cities, said: "Our Community Broadband Scotland initiative was set up to support communities to develop solutions that will improve internet connections in some of our remotest rural areas.
"Broadband should not be considered a luxury in places like the Highlands and Islands; it is essential to enhance the quality of life of communities and to stimulate the growth of the local economy.
"Increasing access to broadband is a key priority area for the Scottish Government and we are currently progressing plans to develop a world-class digital infrastructure by 2020."