Two MSPs quit SNP over party's decision to support Nato policy
John Finnie and Jean Urquhart have announced they are resigning from the party as a result of the decision.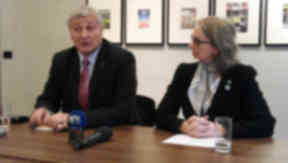 Two MSPs have resigned from the SNP after the party's decision to change their stance on Nato.
At the party's autumn conference last week, delegates narrowly backed taking an independent Scotland into Nato on the condition it would be able to remove its nuclear weapons.
On Tuesday, John Finnie and Jean Urquhart announced they were resigning from the party as a result of the U-turn.
Both of them said the decision - which cuts the SNP's parliamentary majority to just two seats, was "heart-breaking" for them.
Mr Finnie, who joined the SNP when he was 16, said: "I understand that there are those who wish to stay within the SNP and to continue to fight our corner in this essential debate, and I accept their reasons for doing so.
"However, I cannot continue to belong to a party that quite rightly does not wish to hold nuclear weapons on its soil, but wants to join a first strike nuclear alliance.
"Although I envisage that I will continue to share common ground with the SNP on many issues, I cannot in good conscience continue to take the party whip."
Ms Urquhart added: "The issue of nuclear disarmament and removing Trident from Scotland's waters is a red line issue for me, and I could not remain committed to a party that has committed itself to retaining membership of NATO.
"We are both steadfast in our belief that Scotland should be an independent country, and will actively and positively campaign for a Yes vote in 2014.
"We believe in an independent Scotland, not a NATO-dependent Scotland.
"John and I will continue to work with MSPs across the Chamber for a fairer and more peaceful Scotland. Importantly, we look forward to continuing to represent the residents of the Highlands and Islands as we have done since May 2011."
At the conference, Mr Finnie said the current anti-Nato policy had brought the party electoral success.
He said: "Joining a first strike nuclear alliance is not going to be how we rid ourselves of the obscenity of hosting the UK's arsenal of nuclear weapons.
"The priority of the Scottish National Party, warmly endorsed by the Scottish people, was to rid ourselves of these vile weapons of mass indiscriminate civilian slaughter."
Ms Urquhart also spoke at the conference, supporting the party's old stance against Nato.
She said: "When I joined the SNP a lot of people thought I was a rebel. People said you've joined what? This summer I was called a rebel for supporting party policy. Angus Robertson described Nato as a sound organisation. We have to ask ourselves, why have we not endorsed that sound organisation for 30 years?"
Their decision takes the SNP's majority to one. Since the last Scottish elections they have lost Tricia Marwick when she became the speaker of the Scottish Parliament and expelled Bill Walker over domestic abuse allegations.
Both are representatives for the Highlands and Islands and will remain in their seats, now as independent MSPs.
First Minister Alex Salmond said he was "saddened" by the announcement.
The SNP leader said: "I'm saddened that Jean and John have decided to resign from the party. They have been excellent servants to the SNP, and I'm grateful to them for their tireless efforts.
"We had an excellent and democratic debate at party conference last Friday, and agreed a policy of reaffirming our opposition to nuclear weapons as a non-nuclear member of the Nato alliance - a position that will be accepted by the party as a whole.
"Jean and John have indicated to me that they will continue to support the Government from the back benches, and I welcome that. I also look forward to working with them both in the campaign to achieve a Yes vote in Scotland's referendum in 2014."
STV Political Editor Bernard Ponsonby said: "Let's be clear, this is embarrassing [for the SNP] because it sustains the image that on the subject of NATO membership the SNP is divided, and voters tend not respond to parties which are divided."
"It will make the parliament that bit more interesting on paper, I say on paper because I believe in practice these two MSPs will continue to support the government most, if not all of the time."
Last Friday at the SNP party conference in Perth rebels tried to quash the U-turn and reaffirm the party's support for non-Nato alliance Partnership for Peace.
The decision means the SNP will now apply to keep Scotland in Nato if it is elected to lead the first post-independence government. The party had opposed Nato for decades, previously arguing it is a nuclear alliance at odds with the party's anti-nuclear stance.
The move by the two MSPs has cut the SNP government's majority in the Scottish Parliament to just two seats.