Island campaign group calls for air links to Skye to be restored
The FlySkye group says Highland Council should reopen the airstrip at Ashaig to boost business and tourism.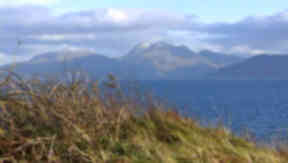 Campaigners on the Isle of Skye are calling for the island's airstrip to be reopened to boost tourism and business.
Highland Council, which owns the airstrip at Ashaig, are planning a feasibility study into restoring the facility, which has not operated commercial flights for 25 years.
But the FlySkye group said studies had already shown there would be enough demand to justify a regular service to the central belt.
Campaign spokesman Ian Blackford said a study carried out by the Highlands and Islands Transport Partnership (Hitrans) in 2007 had shown around 27,500 people a year would use such a service.
"I can only imagine since then that likely demand would have increased rather than anything else, and we know that with such a demand that would be enough to justify a twice-daily service either to Glasgow or Edinburgh with something like an 18-seat aircraft," he told STV News.
Shirley Spear, owner of the acclaimed Three Chimneys restaurant at Dunvegan, labelled the neglected site "Skye's folly".
She said: "I think in the modern times that we're living in, the fact that we have no air service to the island is fairly ridiculous, really, and the fact that we have an airstrip that just lies there unused, unloved and unwanted is to my mind Skye's folly."
Boyd Robertson, of the Gaelic college Sabhal Mor Ostaig, said: "If we have flights from Glasgow or from Edinburgh we have connectivity to international flights from there, and that will introduce much more tourism into Skye, inject a huge number of visitors into the Skye tourism industry and give us a huge economic boost."