Couple unable to hold dying baby before he was 'put in cardboard box'
Doctors admitted medical care for the baby 'fell below the standard' expected at Raigmore Hospital.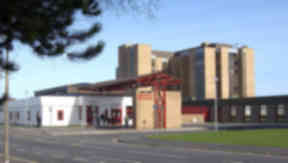 A couple were not allowed to hold their premature baby before they say he was placed in a "cardboard box" because medical staff did not tell them he had been born with a heartbeat.
One of four complaints were upheld against NHS Highland by the Scottish Public Services Ombudsman's Office following the premature birth and death of a baby.
NHS Highland has issued an "unreserved apology" to the family after "Baby A" died on January 5 last year at Raigmore Hospital, Inverness, after being born just at 22 weeks.
The child's parents, named only as "Mr and Mrs C", made six complaints to the ombudsman including that they had been unable to hold their son and his body was placed "in what looked like a cardboard box".
The ombudsman report revealed that the couple only discovered their son had been born alive after reviewing his medical notes.
The report states: "Mrs C says that as a mother she will never get over the fact that Baby A was born alive, that they were not given the opportunity to hold him and that he was not given the chance to die in their arms.
"The board acknowledged the distress that Mr and Mrs C would have experienced on discovering that 'Baby A' had a beating heart on delivery, when they read the medical notes. They stated that if there is a known possibility of a baby being born alive this would be explained to the parents."
The report said the child had passed away "very quickly, within one minute of his birth".
A clinical adviser to the ombudsman said that they "suspected in this particular case there was simply no time for the midwife to inform Mr and Mrs C before Baby A's heart stopped beating."
The reporter concluded: "I consider that during the birth of Baby A, the board unreasonably failed to inform Mr and Mrs C that Baby A was born with a beating heart and in doing so, Mr and Mrs C were denied the opportunity to hold Baby A while his heart was beating."
The couple also complained that "following Baby A's birth he was placed in what looked like a cardboard box on top of a bed trolley in the delivery room" and "they felt that Baby A had been discarded by medical staff".
The midwife however told the ombudsman that babies born in such circumstances are wrapped and placed in a small cot and that she recalled doing this with the child.
The ombudsman said that because there was "conflicting evidence" over what the child had been placed in he could not uphold the complaint.
Complaints
Other complaints upheld included that staff unreasonably failed to follow Royal College of Obstetricians and Gynaecologists (RCOG) Guidelines when carrying out a amniocentesis procedure, unreasonably failed to inform the couple of an abdominal wall defect and failed to arrange a consultant review to determine what went wrong and what implications it could have on a future pregnancy.
Concerns that the amniocentesis procedure took place at Caithness General Hospital, Wick, were dismissed.
Elaine Mead, NHS Highland chief executive, said: "I offer my personal and unreserved apology and sincere condolences to the family for failing to provide the standards of care they required and the devastating impact this had on their lives.
"I will continue to lead and support colleagues to ensure, as far as possible, that something like this can not happen again."
The ombudsman made several recommendations which NHS Highland said it was now implementing.
Dr Ian Bashford, medical director for NHS Highland, added: "I would also like to offer my condolences to the family.
"We welcome the independent review by the Ombudsman's Office and fully accept the recommendations and will implement them. The care that we provided fell below the standard that we would expect and I would like to offer my sincere apologies for the distress that has caused.
"We have shared the Ombudsman's Report with colleagues involved in the case. It is so important that we all continue to reflect and learn to make sure, as best as we possibly can, that this does not happen again."