Scalpay community shop marks start of island's 'regeneration'
More than one third of the island's population turned out to the opening of the new store.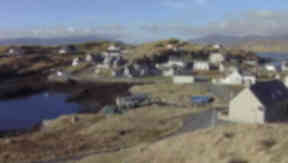 A community run shop on Scalpay is being hailed as a "new beginning" for the declining island.
STV's Norman McLeod officially opened the locally owned mini market at the weekend with more than a third of the population turning out to see the opening.
It is the first sign of regeneration there since residents were gifted the land last month.
MSP Alasdair Allan said: "There are many places where this is the obvious option if there is no commercial, individual or company interest.
"It's good the community thinks about it. I'm not saying it'll work everywhere but it certainly seems to be working here."
When its owners closed the shop five years ago, islanders were forced to travel to the mainland to buy their groceries.
Now they are hoping the newly opened store will breathe life into the island.
Local resident Roddie MacKenzie said: "It was as each school closed, shop closed, with each shutting it was another chapter in the community closing - now there's a chapter opening.
"The opening of this shop will make a huge difference in Scalpay. It'll provide now, and it does provide, a focal point for the community. People are able to get their shopping there and they're able to gather there."
Last month, Scalpay became the largest "gifted" community land acquisition in Scotland after its owner offered the island to residents for free.
The community run store is part of a number of regeneration ideas to help shape the island's future.
Paul Finnegan, of the Scalpay Community buyout steering group, said: "That's the start of things here - a regeneration. We're now starting negotiations with North Harris Trust.
"There's a number of ideas being looked at, regenerating the school, the pontoon and going forward there's lots of ideas and hopefully this is just the start of a full regeneration of the island."
Any profit made by the venture will be reinvested back into the community.