Online shoppers face a 'postcode penalty' on delivery charges
'Many Scots are being routinely ripped off by unfair delivery charges because of where they live.'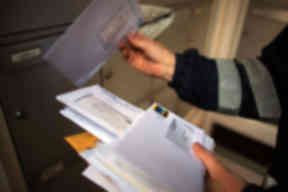 Online shoppers in Scotland are still being "ripped off" by varying delivery charges depending on where they live in the country, according to a survey.
People ordering goods online face a "postcode penalty" with those living on Scottish islands paying almost £19 extra for delivery, Citizens Advice Scotland said.
The latest report is a follow-up to a study the advice body conducted a year ago and it found that little has changed.
More than 3000 customer complaints were analysed in the survey and CAS said it does not only affect rural or island areas of the country.
CAS head of policy Susan McPhee said: "Many Scots are being routinely ripped off by unfair and unjustifiable delivery charges just because of where they live. That is clearly and deeply unfair, and it cannot be allowed to continue unchallenged.
"A year ago today, we published our first report on this issue, and asked consumers to report their experiences to us. We were frankly overwhelmed by the response.
"Over 2000 Scots responded in just a few weeks, telling us extraordinary stories of over-charging, late delivery, poor customer service and in some cases a refusal to deliver to their area at all.
"We promised then that that was only the beginning of our campaign, and so we have spent the year researching more evidence and working with partners to fight for a fair deal.
"We passed all of these complaints to Trading Standards, who have done a brilliant job of pursuing every one of them.
"Meanwhile, we at CAS have been researching the hundreds of companies identified, and examining their delivery policies — many of which are based on an ignorance of Scottish geography. For example, some companies believe that Inverness is off-shore, and that Aberdeen is in the Highlands."
Nearly half of respondents to the survey said they had been charged extra for delivery due to where they lived. The average additional delivery price for the Scottish islands was found to be £18.60, while it was £15.23 for the Highlands.
Over a fifth of people said they had been refused delivery by a retailer due to their location and a similar number believe that they were unfairly treated because of their address.
The problem seems to be with large areas sharing the same postcode. One customer from Caithness in the Highlands told the CAS survey: "On more than one occasion after I had ordered and paid for an item online I have been sent an email say that I live off shore.
"I do not — I live in Caithness on the Scottish mainland. Due to me living on an 'island' I was told I would need to pay an extra 50% or 70%, or even sometimes 100% more postage.
"I have been told that it makes no difference if Caithness is on the mainland of Scotland, it is still classed as the same as the Isle of Scilly. Or that my postcode is KW, therefore I must live on Orkney. Or that I live in the Highlands and Islands so they class all addresses as on an island."
CAS said eBay has adjusted delivery policies after being presented with the survey results, and it is now calling on other retailers to do the same
Ms McPhee said: "We call today on all online companies to examine their delivery policies and make sure they are not applying this unfair postcode penalty on Scotland.
"We also urge any consumer who has an example of this unfair treatment to report it to the Trading Standards Office at their local council.
"This campaign is 'people power' in action, and we need everyone affected to come forward and join us in fighting for a fair deal."