Pair rescued by lifeboat after becoming trapped on cliff ledge
Emergency services were called after a woman fell 20ft down a cliff on the Isle of Bute.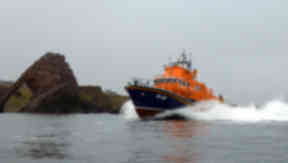 A man and woman had to be rescued by a lifeboat after they became trapped on a cliff ledge while out walking on New Year's Day.
The woman fell around 20ft down a cliff by Kilchattan Bay on the Isle of Bute and her companion tried to help but became stuck himself.
The pair called the emergency services at around 7.15pm and a coastguard team from Rothesay assisted them to the bottom of the cliff where they were picked up by a Largs lifeboat crew.
They were not injured but were taken to hospital as a precaution, the coastguard said.
Meanwhile a 37-strong search crew was involved in the search for a man lost in Glentress Forest near Peebles in the Borders on Hogmanay.
The walker, in his early 50s, was in contact with police on his mobile phone but could not direct them to his position in the wooded area covering 29 sq km, Tweed Valley Mountain Rescue Team said.
He was eventually located at around 8.30pm.
"He was checked over by the Scottish Ambulance Service who allowed him to return to the local hotel where he was staying," the Tweed Valley team said.
Fifteen of its crew were involved in the search as well as eight Borders Search and Rescue Team personnel, 13 people from Moffat Mountain Rescue Team and one person from the Cockermouth team who was staying with a Tweed Valley member over the new year, the team said.