Couple among victims of killer Glencoe avalanche had 'good future'
Friends said doctor Rachel Majumdar, 29, and PhD student Tom Chesters, 28, had been dating for several years.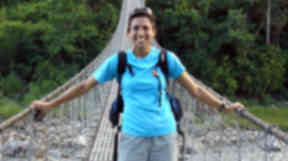 A couple who were looking forward to a "good future together" were among the victims of a killer avalanche which claimed four lives at the weekend, it has emerged.
Friends said hospital doctor Rachel Majumdar, 29, and PhD student Tom Chesters, 28, had been dating for several years and had a shared dream of carrying out voluntary work abroad.
They lost their lives alongside PhD student Christopher Bell, 24, and 25-year-old junior doctor Una Finnegan when they were caught up in an avalanche in the Scottish Highlands on Saturday afternoon.
The four, plus two others who survived the incident, were said to have been experienced climbers who loved the mountains.
Close friends described on Monday how Mr Chesters and Dr Majumdar had been an item since they met at university in Leeds.
Sam Morris, 35, said the only consolation in the tragedy was that the couple died side-by-side doing something they both loved.
"They were in love since they met in their first year of university," he said.
"They were just so soft and sweet with each other — two people so at ease together. They were having fun making plans.
"They had dreams of doing voluntary work oversees together.
"Some of the comfort we have drawn is that these guys had been together to the end. At least they were doing what they liked doing."
Mr Morris, who worked with Mr Chesters and Mr Bell when they were mountain bike tour guides in the Alps, added: "All four of them were people with a bright future and all of them were committed to making a difference. It's such a loss."
Tragedy struck at about 2pm on Saturday as the group of friends made their descent on Bidean Nam Bian in Glencoe.
One member of the party, who is yet to be named, survived by leaping from the collapsing sheet of snow and hammering his ice axe into firmer ground.
A 24-year-old woman from the Durham area, who was seriously hurt in the incident, remains in a critical condition in hospital in Glasgow.
Tributes poured in on Monday for those who had died.
A colleague of Dr Majumdar described her as one of the finest doctors she had worked with.
The medic, a doctor at Harrogate District Hospital in North Yorkshire, was originally from Merseyside but had recently been living in Leeds.
Rebecca Leigh, who works at the Harrogate hospital, said: "Rachel was a gifted and dedicated doctor who was in the middle of her training.
"A very promising medical career has been cut tragically short. She was one of the finest doctors I have ever worked with.
"All the staff and patients who knew Rachel will remember her for her caring nature, with a smile and a friendly word for everyone."
Mr Chesters, said to have been one of Britain's leading competitive orienteerers, had also been living in Leeds and was working towards a PhD qualification in medical engineering at Hull University.
The university said Mr Chesters had a promising career ahead of him.
Michael Fagan, professor of medical and biological engineering, and Catherine Dobson, Mr Chesters' PhD supervisor, said in a statement: "Tom was a fantastic colleague and friend with so much energy and enthusiasm for everything he did.
"He was a real asset to our research group and was making great progress with his PhD research into osteoporosis. He had a very promising career ahead of him. We will all miss him enormously."
Mr Bell, who competed in triathlons at an elite level, has been described as an "unassuming gentleman" who was one of Scotland's foremost amateur mountain bikers.
The 24-year-old, from Blackburn in Lancashire, was studying for a PhD in ocean-mapping in Oban.
His parents were reportedly too upset to comment from their home in Osbaldeston, near Blackburn, but a tribute was issued on the Facebook page of his father's decking business, Evabel.
It read: "Chris was a wonderful son, friend and human being. Our thoughts and prayers are with Simon, Alison & [brother] Ed at this awful time."
Friend Kevin Whitehead said: "He was a quiet, unassuming gentleman. He didn't brag about his achievements, even though they were pretty big ones."
Ms Finnegan, originally from Coleraine in Co Londonderry, was a qualified doctor who lived in Edinburgh.
She studied medicine at Newcastle University and took her masters in anthropology of health and illness in the Scottish capital.
A teacher from the school she attended said Ms Finnegan had a great zest for life and wanted to make a difference.
Nicola Madden, vice-principal of Dalriada School in Ballymoney, said: "She was bright, bubbly, talented, an amazing student and academically she was brilliant, one of the top students."