Western Isles schools look set for closure following legal decision
Judges were considering an appeal from the government over a decision to close three schools.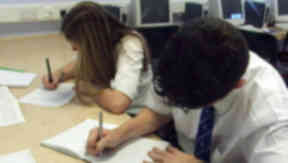 **Three schools in the Western Isles look poised to close following a ruling at the Court of Session.***
Judges were considering an appeal from the Scottish Government over a decision by Comhairle nan Eilean Siar to close three schools.
The Comhairle had agreed to close Seilibost and Carloway Primary and end the S1-S2 provision but the decisions were called in by the Scottish Government.
Seilibost currently has six pupils, Carloway 15 and the S1/S2 provision at Shawbost 34.
All three are due to close in June.
The decision ruled that it was legitimate for the government to call in the council decisions but that ministers did not properly in reaching their decision that the local authority could not close the school.
A hearing will be held to determine the next stages in the process.
Council Angus Campbell, leader of the council, said: "This clearly shows the legislation is flawed on this issue and it is imperative that this is sorted. The legislation needs to be clear for local authorities and government.
"We will consider carefully the terms of today's judgement however it is clear the Judicial Review decision for the Comhairle has been upheld . I would call upon the Scottish Government to respect the twice-expressed will of the Comhairle that educational provision cease at these three schools.
"This would end uncertainty for parents, pupils and staff and allow us to move on with providing the best possible education for pupils in the Western Isles."
Chairwoman of education and children's services councillor Catriona Stewart, said: "I am pleased that the Judicial Review decision has been upheld and that the judgement contains no criticism of the way the Comhairle conducted the processes and decisions in this matter."
Cabinet secretary for education Michael Russell said: "Following today's judgement by the Court of Session, I am pleased that the court has found that the Scottish Ministers' call-in notices were valid.
"The court has now clarified the role of Ministers in determining local authorities' proposals for school closures.
"However, the judgement raises some complex issues which I wish to consider carefully, along with the Commission on the Delivery of Rural Education's report, as soon as it's available, before commenting further.
"Finally, I recognise the future of the three schools in the Western Isles is still not resolved and hope that all parties can work together to remove the continuing uncertainty."