Archaeologist uncovers one of the biggest collections of rock art
Douglas Scott discovered a circle of 28 carved rocks which date back 5000 years.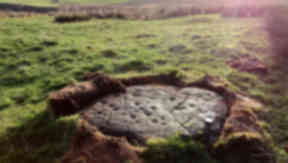 An archaeologist has uncovered the biggest collection of ancient rock art in the Highlands.
Douglas Scott, 64, of Tain, Ross-shire, discovered a circle of 28 carved rocks which date back 5000 years while combing a 200-metre hillside farm in Evanton.
Mr Scott reckons the stones, which have cup-marked shapes cut into them, represent one of the biggest collections of ancient rock art ever found in Scotland.
He revealed he only visited the site, on Swordale Hill, Evanton, after one of his close friends died.
Mr Scott said: "I was first invited up the hill over 25 years ago by a friend of mine who was an archaeologist called Bob Gourlay.
"I think it was 1986 and at the time we found up to 14-15 rock panels with these hollow cup-marks cut into them - and these cup-marks are commonly known from other sites to be works of art carved out 5000 years ago.
"We found quite a few of these rocks and recorded them. We always meant to go back to see if we could find any more but Bob moved away and we never got to do that trip.
"He moved to Austria and four or five years ago he died and so I made it a sort of mission to go and visit the site again in his memory.
"It's taken a while as it's a big site to explore, but what I've found second time around is quite staggering - unknown to everyone, this hillside is actually one of the biggest collections of ancient art in the whole country."
After studying the patterns on the rocks, Mr Scott published a report on his findings and has come to the conclusion that he has found one of the most significant ancient ritual centres in the country, where people used to worship the sun during midwinter sunrises.
Mr Scott said: "I've been looking at rock art over the whole Scotland for the last 30 years and these things are the expression of the beliefs people had 4000 to 5000 years ago.
"The rocks on Swordale Hill all align to where the sun and moon rises and sets in midwinter, which is no coincidence.
"It's all to do with the beliefs these people had - they used the rock art to communicate with their ancestors in the underworld at that time of year.
"People would carve these cupmarks into the rock at the times when the sun was coming up, out of what they believed was the underworld.
"It's something to do with the belief that the spirits, who they thought were their ancestors, journeyed with the sun to the underworld."
Mr Scott, who is a retired silversmith, has lodged his findings with the Highland Historic Environment Record, the Royal Commission of Ancient Monuments and has even produced a photographic guide which he has sent to Archaeology for Communities in the Highlands.
He admits he is a proud man after discovering the major ancient ritual site - the biggest found in the Highlands - and now he wants to spread the word for future generations to visit.
"I'd class myself as an archaeoastronominer, someone who studies how people in the past have understood phenomena in the sky - but it's just a bit of fun for me, I enjoy it," he added.
"This is the biggest collection of ancient rock art in this part of Scotland and it's part of our heritage, but not enough folk know about it and I want that to change.
"I think Swordale Hill is a fascinating place - these people would have used these rocks just like we use paper - and it reveals so much about their behaviour that you can't learn from excavations."
Feedback: We want your feedback on our site. If you've got questions, spotted an inaccuracy or just want to share some ideas about our news service, please email us on web@stv.tv.
Download: The STV News app is Scotland's favourite and is available for iPhone from the Apple store and for Android from Google Play. Download it today and continue to enjoy STV News wherever you are.