Man who carried out 'evil' attack on tourist appeals sentence
Colin Ross was sentenced to a minimum of 20 years for the attack on Marty Layman-Mendonca in 2006.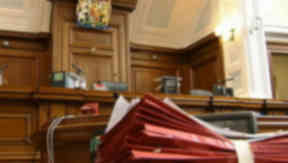 A man who carried out an "evil and inhuman" attack on a tourist has been allowed to appeal his life sentence.
Colin Ross was the first person in Scotland to be given an order for lifelong restriction in 2006 for the attempted murder of Marty Layman-Mendonca.
The 40-year-old beat the American with a metal pole and boulder. She was left in a coma after the attack and spent three months in hospital in Inverness. A month after flying home, she died.
The 57-year-old was a frequent visitor to Scotland and was hiking on the Great Glen Way near Inverness when she was attacked in July 2006.
Ross was sentenced to a minimum of 20 years in prison. On Tuesday, appeal judges agreed to have a full hearing after Ross claimed the minimum term was excessive.
Ross had been freed from an earlier three-year prison sentence for attacking a female German holidaymaker near Cawdor Castle.
He was on the sex offenders register and under supervision and subject to an order banning him approaching women at the time of the attack on Ms Layman-Mendonca.
The judge who gave him the life sentence, Lord Wheatley, said: "Even so, all these protective measures did not prevent you committing this evil and inhuman act."
He told Ross he had planned the attack on Ms Layman-Mendonca with some care and appeared to have got "a degree of satisfaction from the assault".
A lifelong restriction order means Ross will not be released from prison until the parole board believes he is no longer a threat to society.
Ross' case was referred back to appeal judges by the Scottish Criminal Cases Review Commission which looks at alleged miscarriages of justice.
Lord Clarke, sitting with Lord Menzies and Lady Dorrian, agreed that the case should go to a full hearing.