Cairngorms avalanche: Two die after being airlifted to hospital
A third person remains critically ill after being airlifted from the Chalamain Gap area of the Cairngorms.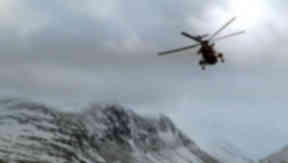 A man and a woman have died after being caught up in an avalanche in the Cairngorms, police have confirmed.
Northern Constabulary said three people were airlifted to hospital after emergency services were called to the Chalamain Gap area at about 12.30pm on Thursday.
One man remains in Aberdeen Royal Infirmary in a critical condition, police added. None of the victims have been formally identified.
Emergency services were called to the range on Thursday afternoon at around 12.30pm, four miles from Aviemore.
A Northern Constabulary spokesman said: "Police can confirm that two people involved in the earlier avalanche at Cairngorm have sadly died."
Mountain rescue teams said two parties of six people were caught in the avalanche. Three were taken by air ambulance to Aberdeen Royal Infirmary while the others were guided off the hill on foot.
Police said the rescue operation was stood down just after 7pm.
Officers from Northern Constabulary were assisted by members of Cairngorm Mountain Rescue Team, SARDA Scotland dogs, RAF Lossiemouth MRT and RAF Helicopter One Three Seven also from Lossiemouth during the search.
David Rutledge, training officer for Cairngorm Mountain Rescue team, described how the events unfolded.
He said: "The phone call came into the team leader, reporting that there was an avalanche with multiple burials.
"We needed to get there as quickly as possible. We started mobilising within 15 minutes of the call coming through.
"We had a helicopter here incredibly quickly. We had three doctors available straight away who were able to get to the scene.
"This was a fairly contained scenario. We were able to deal with an incident which was relatively close to the roadside, within 2km of the ski road and in a very contained area.
"From that perspective, no search was necessary. The key aspect to this was to get people there as quickly as possible."
Describing the weather conditions facing rescuers at the time, he said: "Conditions today were quite clear, which was ideal for flying.
"Snow conditions would have been affected massively by the weather we've had over the last few days, but significantly temperatures were increasing throughout the day and that will have had an effect on what was going on.
"Wind speeds were quite high this morning and all of those things have a contributing factor to the snow conditions."
One of the helicopters had the RAF Mountain rescue team on board along with a search dog. RAF Leeming, who are training in the area were also involved in the search.
The incident is the second fatality in the Cairngorms in a week after a man died and five of his friends were rescued in atrocious conditions.
Graham Connell, 31, from Castleford in Yorkshire, was part of a group of six Leeds University students who failed to return after a climbing trip on Sunday. It was understood that he had been injured in a fall.
The five other students were rescued on Monday at around 12.10pm on a hill near Carn Tarsuinn by Braemar Mountain Rescue Team.

View Cairngorms locator in a larger map
Your report: If you have information on this or any other story, please let us know. You can send information, pictures to web@stv.tv or call us on 0131 200 8085.
Feedback: We want your feedback on our site. If you've got questions, spotted an inaccuracy or just want to share some ideas about our news service, please email us on web@stv.tv.