Scots teacher gang raped by men in Thailand tells of her ordeal
The 20-year-old, from Fort William, has claimed the police have 'humiliated' her.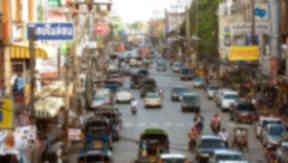 A Scots teacher who was the victim of a gang rape in Thailand has spoken of the "nightmare" that has left her plans for the future shattered.
The 20-year-old was attacked by four men, two of whom raped her, as she walked home from a night out at around 3am on Friday.
She told how she has been left bruised and battered and is now awaiting hospital tests following the assault.
Speaking to STV News from the city of Nakhon Si Thammarat in the south of the country, where the attack took place, she described how she felt the police and authorities had "humiliated" her and doubted her version of events.
The victim, from Fort William in the Highlands, sought to correct several aspects of the incident reported by Thai media outlets, including a claim that she had been left by her boyfriend after an argument in a bar.
She told STV News: "I had had a few beers at a restaurant with a friend and we moved on to a bar where I met another friend. I can remember a lot of that then things are unclear, I can only remember little things. I do not know if my drink had been spiked or what. There was a kafuffle with the bouncer there and we left at around 2.45am. I told my friend that I would get back home fine, it was not too far away. The police have told me that I was told to leave the bar because I was too drunk, but I can't remember if that was true.
"I was awoken on the balcony of a building around 50m away from the bar. The police and other people that lived nearby woke me up. At that point, I did not have a clue what had happened or what was going on, but they were saying I was still drunk."
The victim added: "I do not remember certain parts of what happened, and I do not remember what order they are in. I can remember a silver car or a pick-up truck and I think that is what the men who attacked me drove in. I remember it was raining, I remember there were four of them and I remember the attack happened on a concrete floor. I remember quite clearly what the two men who raped me looked like. One was wearing a black T-shirt and the other was wearing a green khaki T-shirt, he had black hair and a gap in his teeth or a tooth missing.
"They hit me in the face and on my head. There are bruises on my arms from where they held me down and my elbows and knees have been scraped."
Police investigating the attack say they are awaiting forensic reports from the hospital where she was treated while their enquiries continue.
She criticised the way the authorities have dealt with her since the assault.
'Humiliating'
She said: "I've given three statements to the police using two different interpreters, I feel like I'm going round in circles with them. They tell me one thing and then another, they've said something about a bouncer at the bar taking me home and dropping me off, but he can't remember where that was. I still haven't received anything back from the police, or from the hospital for tests for diseases following the attack.
"How come no-one in nearby houses heard anything happening? I was screaming and shouting during the attack, there's no chance they never heard anything. The police have said the people living nearby just thought it was a fight and didn't do anything.
"The police and authorities are very humiliating, their whole system has let me down – they're making out that I was some drunk idiot and it was my fault, which was not the case. They started asking me questions about my relationship with my boyfriend, which is not relevant at all to this, it just seems like a joke to them."
The victim is travelling home to Scotland this week, after the ordeal has forced her to abandon plans to begin teaching in the region, she said. She criticised Thai media outlets for reporting allegations surrounding the attack and for doubting her claim that she had been raped.
She added: "It's been a horrific experience and the whole thing with the media has made it a lot worse. They have made me look like an idiot who was drunk, they also said my boyfriend had left me at the bar, which he hadn't. He was travelling down from Bangkok at the time and had nothing to do with it. What they've reported has been quite disturbing.
"I hope there's some way this can be resolved. Those men need to be caught. But it seems like nothing will get done. I just really want to go home, I want to go and see my family and get proper help, but I'm stuck in a foreign country where no one speaks fluent English.
"When I get back to the UK I want to report this to the police who will understand me and I want to go to a hospital that can help me after this. My family are very supportive, they just want me home as soon as possible."
She added: "I think I'm still in shock. The first night after I was raped I was very upset, I was tired and cried quite a lot. Now, I can't cry, I just feel numb. As soon as I enter my family's company I think I will just break down. Leaving my boyfriend behind here because he can't get a UK visa just now is terrible. We have been living out of each others' pockets for the past few months. But it has ruined everything that I had planned out here."
A Foreign Office spokesman said: "We are aware of a British national having been involved in a serious assault in Thailand. We are providing consulate assistance at this difficult time."