Jedi priests 'could perform weddings' under new laws, says church
The Free Church described the government's plans to create a third category of marriage as 'nonsensical'.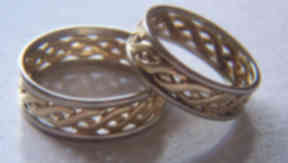 Proposed changes to marriage laws will pave the way for Star Wars Jedi priests to perform weddings in Scotland, a church has warned.
The Free Church has described the Scottish Government's plans to create a third category of marriage as "completely nonsensical".
The comments came as the denomination responded to the second consultation on the redefinition of marriage in Scotland, which it continues to "vehemently oppose".
The Scottish Government has said it wishes to establish belief ceremonies as a third type of ceremony, alongside religious and civil, for getting married in Scotland.
A Free Church spokesman said: "The proposal of the Scottish Government to create a third category of belief marriage ceremony alongside the current religious and civil ones is an indication of the increasing confusion that we can expect in the coming months and years.
"Humanists are already able to perform marriages under the religious category and we see no reason why this should not continue.
"Instead we are faced with the Scottish Government seeking to create a new category for something which already happens under the current system, which is completely nonsensical.
"We would also question whether this category only includes humanists or will it allow for any belief? Could the Jedi Knights or members of the Flat Earth Society be registered as belief celebrants?
"We believe that once the legislation is passed the issues and complications will not go away."
A Scottish Government spokesman said: "Our current consultation covers not only the introduction of same sex marriage but also the detail of important protections in relation to religious bodies and celebrants, freedom of speech and education.
"As part of the consultation we have outlined the reason for suggesting a third type of ceremony. At the moment, marriage ceremonies by bodies such as humanists have been classed as religious, even though the beliefs of such organisations are non-religious.
"It also makes clear that we are determined to ensure the continued reputation of Scottish marriage ceremonies. We are proposing the introduction of tests which a religious or belief body would have to meet before they could be authorised to solemnise marriage."
Your report: If you have information on this or any other story, please let us know. You can send information, pictures to web@stv.tv or call us on 0141 300 3264.
Feedback: We want your feedback on our site. If you've got questions, spotted an inaccuracy or just want to share some ideas about our news service, please email us on web@stv.tv.