Scots couple celebrating £100,000 win on lottery scratchcard
Contract catering general manager Lorraine Woolley bought the £2 Scratchcard at her local Asda.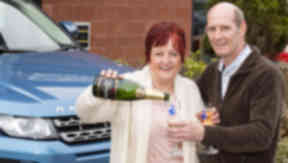 A couple from Inverness are celebrating winning the £100,000 top prize on a lottery scratchcard.
Lorraine Woolley, 48, a catering manager, bought the £2 scratchcard at her local Asda, on April 6, while picking up her Lotto ticket for Saturday's draw.
Mrs Woolley said: "I was literally shaking like a leaf in the car when I saw I'd won. My heart was racing and I just couldn't believe it. I must have looked shocked as my granddaughter who was with me asked me if I'd won any pennies.
"I was still in the Asda car park and the adrenalin must have kicked in as I went straight back in and asked them to check if there was a mistake. They took the scratchcard, looked at it, looked at me, and I just knew. I'd won."
The grandmother-of-two excitedly rang her husband Ian, who was on a fishing trip, and two children Robert and Michael to tell them the good news, but her calls all went unanswered.
Mrs Woolley said: "I won at 3pm and didn't get hold of him until 5pm so had to have a vodka to calm the nerves and celebrate. He thought it was a joke initially then he just shouted 'you beauty'. When my son finished work, he called me back and when I told him he just screamed down the phone."
The couple, who have been married for 32 years, play EuroMillions and Lotto and monthly scratchcards.
A year ago Mrs Woolley won £700 on The National Lottery Triple Lucky 7s Scratchcard.
She is now looking forward to buying new cars for both Ian and herself as well as splashing out on a family holiday to the Disney World Resort, Florida.
She added: "Life won't change too much for us, but now we can afford a dream family holiday, pay off our bills, look after our two sons and treat ourselves to our very own cars. I cannot wait to go car shopping."
Your report: If you have information on this or any other story, please let us know. You can send information, pictures to web@stv.tv or call us on 01224 848918.
Feedback: We want your feedback on our site. If you've got questions, spotted an inaccuracy or just want to share some ideas about our news service, please email us on web@stv.tv.