Former television presenter forced to postpone solo Atlantic row
Niall Macdonald hopes to raise £100,000 for a mental health charity by crossing 3400 miles of water.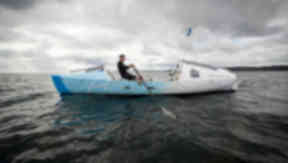 A former TV and radio presenter who hopes to become the first man to row solo between New York and Stornoway has been forced to postpone his trip.
Niall Macdonald hopes to raise £100,000 for a mental health charity by crossing more than 3400 miles of water in just over three months and had planned to undertake the voyage this year.
Mr Macdonald said: "I am very sorry to announce that I am postponing my NY2SY Solo North Atlantic Row for this year. It's been a couple of days since I took the decision but I have not made any official statement until now as I wanted to contact all my sponsors and supporters, so that they heard the news from me first. I am gutted that I can't undertake the challenge this year but I have quite simply run out of time and there is no sponsor in the world that can help me with that.
"Although, I have made great progress with the project since the turn of the year, I have also had a lot of problems getting equipment to the island and these delays, combined with some other issues, have finally caught up with me. The discovery just recently that my watermaker had a crack in it was also a setback.
"There is still a couple of weeks' work to be done on the boat and she wouldn't be quite ready for the proposed shipping date to New York next week. It's a tough one to take and I was so close, but that is not good enough given the challenge that lies ahead."
The 38-year-old, who has suffered from depression, is raising money and awareness for the Scottish Association for Mental Health.
In 2008 Mr Macdonald successfully rowed 46 miles across the Minch, a difficult stretch of sea between the Outer Hebrides and the mainland. This latest venture is the equivalent of rowing across the Minch 70 times.
Only ten people have successfully rowed from west to east across the North Atlantic, but nobody has ever completed the route Mr Macdonald will attempt.
"There are also some skills that I still need to master, like deploying and recovering the sea anchor correctly and also emergency procedures to practise, and I wouldn't have time to do these before the boat was shipped," he added.
"Had I gone ahead with the plans and shipped the boat across to the States, it would have meant that we would have been still trying to complete the outstanding work on the boat in New York. This could have been done, but it's not an ideal scenario just before such a huge challenge."
Mr MacDonald admitted that personal factors had also affected his decision.
"One of the other factors in my decision to postpone is harder to admit. The truth is that I am just not ready to do the row. I have put myself under intense pressure over the past two months to get NY2SY to the start and it has taken its toll on me and some of my old demons have returned.
"If I am going to bang on about mental health issues and try to raise awareness for SAMH then I need to be honest about my own situation.
"There have been many testing times over the past couple of years but I found these few weeks leading up to the proposed launch particularly hard.
"There have been days when I have just shut down, been unable to function, and this needs to be addressed. I was always going to be the weak link in all this, but I'll get myself sorted and I am already looking towards 2014."
Your report: If you have information on this or any other story, please let us know. You can send information, pictures to web@stv.tv or call us on 01224 848918.
Feedback: We want your feedback on our site. If you've got questions, spotted an inaccuracy or just want to share some ideas about our news service, please email us on web@stv.tv.