Beached whales forced biggest military exercise in Europe to move
The RAF had been practicing bombing near Portmahomack, Easter Ross, and had to move.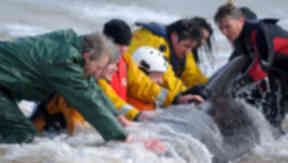 Bosses behind the biggest military exercise in Europe were forced to relocate their operation after three whales became stranded on a Scots beach.
The RAF had been practicing bombing near Portmahomack, Easter Ross, on Wednesday when they were forced to change course after three distressed pilot whales were stuck on a nearby beach.
Two of the animals returned to the ocean in the nick of time, but a third died, despite the efforts of a major rescue bid.
A Joint Warrior Exercise spokesman confirmed they had been asked by the British Divers Marine Life Rescue (BDMLR) to move their bombing practice elsewhere and would not return to the area for their final day of war games on Thursday.
He said: "The RAF were conducting an exercise in the area as part of Exercise Joint Warrior and were contacted by BDMLR, who informed them about the whales.
"They agreed to move the exercise activity elsewhere for the time being just as a precaution.
"The RAF also agreed to carry out a visual inspection of the area before conducting exercises to see if there is any marine mammal activity in the area. If there is, they won't exercise in that area."
Portmahomack housewife Jackie More, 42, first spotted the whales while walking her dog at 8.30am on Wednesday and nearby resident Ann Mackay, 56, said she had never seen whales beached in the area before.
The pair immediately called the coastguard for help and set about digging the disorientated out of the sand and threw buckets of water over them.
A ten-strong team of Scottish SPCA, coastguard and BDMLR members quickly arrived, along with another ten local volunteers and the group managed to get the first whale out to sea without much difficulty while bombs exploded in the background at a nearby RAF Tain bombing range.
But they spent another three hours trying to get the weaker second whale back out to sea and managed to get it out to see just minutes before it was about to be put down.
The rescue team paid tribute to Jackie and Ann and said without them the two whales would be dead. The third whale died.
BDMLR member Alastair Jack said: "The public probably saved its life getting it upright. It was difficult to refloat it with the surf and the amount of people we had was not enough for the size of the animal.
"We tried the inflatable pontoon but the surf was too strong, so we decided to manhandle it back into the water. We restored its equilibrium by rocking it from side-to-side. It was really its last chance when we released it for it to stay upright and swim away. It had been stranded for 12 hours and normally after that time they cannot survive."
Scottish SPCA senior inspector Andy Brown said of the second whale: "We were conscious that it was stranded for quite a while and it was make-or-break time."
If it was not able to keep itself upright, it would have been put down.
About 13,000 military personnel from nine different countries are taking part in Exercise Joint Warrior which includes 49 ships from the UK, Canada, the Netherlands and Germany and about 40 military aircraft.
Your report: If you have information on this or any other story, please let us know. You can send information, pictures to web@stv.tv or call us on 01224 848918.
Feedback: We want your feedback on our site. If you've got questions, spotted an inaccuracy or just want to share some ideas about our news service, please email us on web@stv.tv.