Idyllic island Tanera Mòr to go on sale with £2.5m price tag
Tanera Mòr is the largest and only inhabited island in the Summer Isles archipelago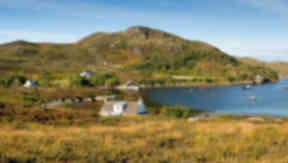 An idyllic Scottish island is poised to go on sale with a £2.5m price tag.
Tanera Mòr, an 800-acre body of land, is the largest and only inhabited island in the Summer Isles archipelago, a grouping of islands off the north-west coast of Ullapool.
Current owners, the Wilder family, bought the island and set up home there in 1996. Their daughter Lizzie Williams and her husband Richard now manage the property.
However, they have chosen to sell and, after residents of the surrounding Coigach peninsula decided against a community buyout, the family will now place the island on the open market.
Lizzie Williams said: "After many happy years of calling Tanera home, it is time for someone else to have the privilege of looking after this amazing place. We greatly appreciate the effort made by the local Coigach community to consider the opportunity of taking on Tanera and we fully understand their reasons for deciding not to.
"We hope that whoever owns the island in the future will enjoy the same warm and co-operative relationship with the community that we have for the past 17 years."
Tanera Mòr features six properties for holiday letting, a sailing school, and a former boathouse which has been converted into a cafe and Post Office. One of the island's quirks is that its Post Office issues its own stamps, with the next batch due on May 9.
John Bound, of property firm CKD Galbraith, which is handling the sale, said: "The chance to own your own Scottish island is extremely rare and with Tanera Mòr's thriving tourist enterprise coupled with being a truly spectacular place to live, we expect to receive a lot of interest as it goes on the open market.
"With ongoing support and commitment from the local Coigach community, Tanera Mòr offers a truly fantastic prospect for interested parties who will very much have the island's heritage and sustainability at heart as well as a fantastic lifestyle."
Tanera Mòr is being placed on the market with a guide price of £2.5m.