Inverness butcher slices the competition to win top sausage award
Duncan Fraser and Son lifted the prize for their beef, tomato and onion sausage.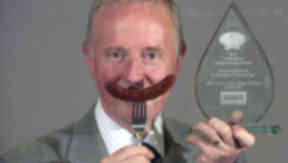 An Inverness butcher has seen his speciality sausage pass with frying colours after winning a top food award.
Duncan Fraser and Son, a family-run business founded in 1911, took first place at the inaugural Craft Butcher Premium Sausage Awards on Sunday.
The gong was awarded for the company's beef, tomato and onion sausage at the Scottish Meat Trade Fair in Perth.
The Inverness outlet faced a grilling from judges but in the end sizzled competition from butchers around the country.
The prize recognises quality beef products, defined as those with a meat content higher than 72%, and is aimed at improving links between industry bosses and small outlets.
Uel Morton, Chief Executive of Quality Meat Scotland, congratulated Duncan Fraser and Son on emerging as debut award winners and emphasised the importance of the new awards.
He said: "Butchers deserve recognition for their innovation and product development. Many of them have also have responded to feedback from their customers looking for higher meat content sausages."
A survey of butchers by Quality Meat Scotland revealed 92% of butchers' shops experienced increased footfall in February following media coverage of the horsemeat scandal. Additionally, 95% said customers have been taking a greater interest in the source of meat.
Douglas Scott, Chief Executive of the Scottish Meat Traders Association, said more consumers are discovering the creativity and innovation to be found inside their local butchers' shop.
He added: "Butchers are keen to ensure their new customers continue to shop with them and the fantastic range of top quality sausages put forward by butchers for today's event sends out a very positive message about the combination of knowledge, traditional skills and innovation offered by our butchers."