Energy firm SSE submits plans for £25m wind farm in Ross-shire
The energy firm has submitted the plans for the 12-turbine site to the Scottish Government.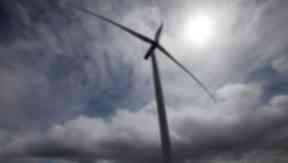 Energy firm SSE has submitted plans for a £25m wind farm to extend its presence in the Highlands.
The renewable energy division of the business lodged the proposals for a 12-turbine farm on Wednesday.
It is seeking to construct the wind farm south of Loch Achonachie in Strathconon, Ross-shire, adjacent to its 20-turbine 40MW Fairburn wind farm, opened in 2010.
Originally, SSE had sought to construct 35 turbines on the site, but reduced this figure as the plan is "carefully designed to minimise impacts on local communities, sensitive landscape areas and to be in keeping with the existing wind farm."
SSE said it predicts the wind farm to bring £25m investment into the local community during the construction and operation of it.
The firm's head of onshore development, Neil Lannen, said: "Fairburn extension wind farm is a well-sited project that has the broad support of the local community. If consented, it will deliver real social and economic benefits to the local area and will make a significant contribution to the country's renewable energy targets.
"Since the proposal was first outlined early last year, we've conducted a positive consultation with stakeholders and local residents that has influenced the final design of the wind farm. Both the size of the scheme and the height of the turbines have been reduced, minimising the visual and landscape impact of the project.
"If consented, the wind farm will provide £4.5m of support to community projects in its lifetime, managed by a panel-based community investment fund. Opportunities for local business will also be encouraged through key initiatives such as our Open4business procurement channel and our partnership with the University of the Highlands and Islands."