Plockton traditional music school to stay open
The Scottish Government has taken steps to keep the traditional music school open with new funding.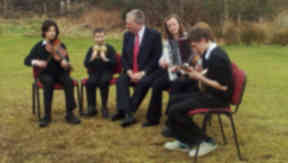 The closure-threatened traditional music centre in Plockton has been saved after new funding was secured.
The Plockton School of Traditional Music had been facing closure after Highland Council withdrew £300,000 of annual funding.
However, the funding gap has been filled after a partnership was confirmed between the centre and with West Highland College UHI (University of the Highlands and Islands).
An additional £200,000 a year from 2012/13 to 2014/15 from the Scottish Government will enable the College to link up with the National Centre for Excellence, opening up its facilities to West Highland College students.
Speaking during a visit to the school, Education Secretary Michael Russell said: "The reaction to the proposed closure of the school from pupils, former pupils, musicians, politicians and members of the public clearly demonstrated the widespread support for the unique facilities at Plockton.
"This new partnership between the school and West Highland College will open up the school to older music students and allow them to take advantage of the quality teaching and outstanding legacy that Plockton has provided.
"Investment from the Scottish Government will make this partnership a reality and assist the bodies concerned in funding the school in these times of financial constraint over the coming years."
He said one tutor could cover two instruments, and reductions could be made in travel costs. He thought the 9,500 people who signed an online petition calling the school to be retained "should be pleased" with the announcement.
"Scotland has a fine history of producing talented professionals across a whole range of the arts and traditional music is no exception. As one of our National Centres for Excellence, it is already funded by grant via the Highland Council and this will continue.
"The announcement does not affect that relationship, nor those responsibilities, but opens up a range of new possibilities and broadens the base of support for this important facility."
IN DETAIL: