Hundreds of MG owners gather in Highlands for classic car festival
Around 370 models are being brought together in the largest event of its kind in Scotland.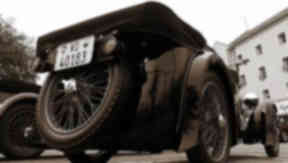 Classic car owners from all over the world have rolled into Aviemore for Scotland's largest ever gathering of MGs.
Around 370 models from 23 countries have been brought together for a five-day celebration of the classic model, nearly a century after the first one took to the road.
The cars are heading to this weekend's Nairn Highland Games in an event that is reckoned to be worth £1.5m to the Highland economy.
Jonathan Gatenby, of Aviemore Business Association, said: "It's very high-profile. It brings a lot of people who'd not normally come to the Highlands here and certainly to Aviemore in particular.
"Aviemore is such an economic centre for the Highlands that it is very important."
Organiser Bob MacGillivray said his love of MGs was an affliction that began in childhood.
"It's a very serious illness," he said. "I was at school, I got a book out of the library. It was full of guys driving MGs with flying helmets and goggles and windscreens down and Brooklyns, all that kind of thing.
"I got hooked and I've been hooked ever since. I've now got five of them."