Lawyer caused crash while overtaking and broke driver's neck
Inverness procurator fiscal Emma Knox pleaded guilty to causing crash by dangerous driving.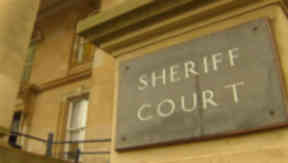 A top prosecuting lawyer may lose her job after admitting dangerous driving which caused a head on collision with a van which left the driver with a broken neck.
Inverness district procurator fiscal Emma Knox was unconscious for four weeks and was in hospital for almost four months after suffering serious head injuries and multiple fractures in the collision.
The serious road accident happened at Lentran on the A862 Inverness to Beauly road on December 12 last year.
The mother-of-two, who earns £3200 a month, still suffers from double vision and impaired speech as a result of brain nerve damage and walks with a stick.
The other driver, Scott Henderson was also badly injured in the crash which left him with a fractured neck, but Dingwall Sheriff Court heard on Tuesday that he had fully recovered.
An investigation by the former Northern Constabulary's Road Policing Unit, concluded that the Elgin-born solicitor who moved into her post in 2009 had caused the accident involving a van and a lorry.
Within days of being charged, Mrs Knox, 45, instructed her solicitor, Neil Wilson, to plead guilty.
On Tuesday she admitted causing serious injury to herself and Mr Henderson by overtaking a lorry on a bend and in the face of Mr Henderson's oncoming Ford Transit van. She was fined £500 and banned from driving for two years by Sheriff Principal Derek Pyle QC.
He told her: "The fact you are employed by the fiscal service and the Crown is of no relevance to me. However you more than anyone else should know road traffic law and the consequences of dangerous driving.
"If someone had been killed in this collision, your would have been brought in the High Court and could have resulted in a custodial sentence.
"I would have been considering a custodial sentence or a direct alternative to it, but having listened to your agent, your behaviour belongs at the lower end of dangerous driving where your error of judgement has consequences which have had an enormous effect on you.
"The court must mark its strong disapproval but I do not consider a custodial sentence is appropriate."
Mrs Knox will have to resit her driving test if she is ever able to drive again.
Procurator fiscal for the west of Scotland, Laura McPherson acted for the Crown and travelled north for her colleague's court appearance.
Ms McPherson said Knox was only 30ft away from the oncoming van when she overtook the lorry. The collision sent her car spinning 180 degrees backwards into the rear of the lorry.
Mr Henderson, who suffered a serious neck fracture, also ended up facing the wrong way after being unable to avoid a crash because of the stone wall separating the road from the Beauly Firth.They had to be cut free from the wreckage.
Defence agent Neil Wilson said: "Although the medical staff say she is fit to return to work, it could only be on a part-time basis at this moment.
"But whether she is allowed to by her employers depends upon how seriously they and the court view this offence. She could be docked pay, lose her commission or be dismissed - all options are open to them."