Seven-foot 400lb bluefin tuna caught by crew in Western Isles
The bluefin was caught off the coast of Harris in the Western Isles by the same crew who caught the biggest ever tuna found in Scottish water three weeks ago.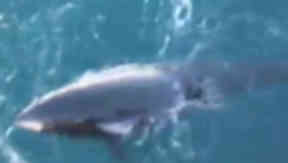 A 400lb bluefin tuna has been caught in the Western Isles by the same crew who caught an even bigger one just three weeks ago.
The giant fish, which was between seven and seven-and-a-half foot long, was caught off the coat of Harris by local tour operator, Kilda Cruises, on Saturday.
Bluefin tuna are usually found in warmer water, but it is thought they are gradually moving north as herring stocks recover.
The operators had previously spotted tuna chasing mackerel off the coast, and ordered specialist fishing gear from the USA.
Angus Campbell, of Kilda Cruises, said: "The guys went out on Saturday and caught another big one and then released it. It wasn't quite as big as the nine-foot 515lb one we caught in September but we were still happy with it. We estimated it was about 350lb to 400lb. It's the fourth one we have caught this year so we're pleased with that."
The crew from Kilda Cruises caught the nine-foot bluefin tuna, thought to be the biggest even seen in Scotland, in September.
Bluefin tuna is on the Greenpeace 'Red List', with the organisation saying high demand has led to "a severely depleted population". However, some studies suggest numbers might be stabilising after conservation efforts.
Ken Fraser caught the biggest bluefin on record in Aulds Cove, Nova Scotia on October 26, 1979. It took him 45 minutes to land the 1496lb fish.