Ponies recruited to stop Culloden battlefield becoming woodland
Historic Scotland wants to halt natural regeneration at Culloden and maintain the famous landscape.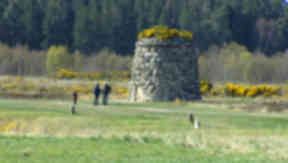 Ponies have been brought in to fight an invasion of scrub that is threatening to ruin Culloden Moor — site of the famous battle.
The National Trust for Scotland has recruited five Highland ponies to graze the battlefield, east of Inverness, as part of a trial to prevent the area turning into woodland.
Historic Scotland wants to halt natural regeneration at Culloden, as it threatens to alter the landscape from how it would have appeared on 16 April 1746 — the day of the the last pitched battle fought on British soil, when Bonnie Prince Charlie and his Jacobite army faced their final defeat at the hands of Government forces.
The ensuing rout left up to 2000 dead and ended forever Bonnie Prince Charlie's ambition of claiming the British throne for the House of Stuart.
Five ponies, Fraoch, Ghillie Bhuidhe, Findhorn Paulo, Gordina and Grian, owned and bred by a local family at Newtonmore Pony Centre, Invernesshire, are said to have "settled in well" at the moor where their hardiness and ability to thrive on rough pasture is a major asset.
Rob Dewar, one of the trust's nature conservation advisors said: "Standing at the centre of the battlefield it is satisfying to see the ponies looking so much at home in Culloden's environment.
"The ponies have settled in well and on my last visit Grian rolled on his back and kicked out his legs almost as if to emphasise how happy he feels here.
"Although Culloden will always have a melancholy atmosphere because of what happened on this site, those bare-backed ponies lifted my spirit, and in some way their presence felt very poignant to me."
The Battle of Culloden was the final confrontation of the 1745 Jacobite Rising. The Jacobite forces of Charles Edward Stuart fought loyalist troops commanded by William Augustus, Duke of Cumberland, to reclaim the throne of Britain from the Hanoverians.
The Hanoverians won in less than an hour.
Within a few days of the battle, around 1500 Jacobite soldiers gathered at Ruthven Barracks, backed by France and ready to fight on but to their surprise Charles gave the order to disperse and went into hiding.
Unopposed, the Government sent its army across Scotland, punishing anyone suspected of Jacobite sympathies and dismantling the structures of Highland society with a brutality that earned Cumberland the nickname "Butcher", while Bonnie Prince Charlie fled to a life of exile in Europe.