A9 smash victims to be identified by dental records
Dental records will have to be used to identify the two people who died in an accident on the A9 on Monday night.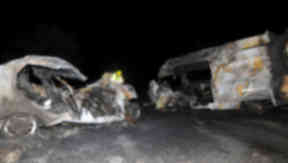 **The victims of a horror crash where two vehicles burst into flames will have to be identified by dental records. **
Police are still probing the fireball smash on the A9 near Kingussie. A large white Fort Transit van owned by Network Rail was involved in the accident with a Chevrolet Lacetti.
A passenger of the van was killed, and was named locally as John McInnes, aged in his 50s from Duthil, by Carrbridge.
The driver of the car, a 39-year-old man from Dundee also died.
The van driver had a miraculous escape as witnesses described the crash as a 'raging inferno' with flames shooing 40ft into the air. His condition at Raigmore Hospital in Inverness was described as stable, although his injuries are life-threatening.
It could take several days to formally identify the dead men, with checks having to be done with dental records.
Police have appealed for witnesses and want to speak to a woman driving south in a dark Range Rover at the time of the crash.
A farmer who lives near the scene, about seven miles south of Aviemore, said his son had heard an 'almighty bang'. The man, who does not want to be named, said: "He went outside to see what had happened but within a couple of minutes the crash scene was just a raging inferno.
"He phoned me and I arrived at the house within five minutes and it was just unbelievable. The flames were 40ft high."
The farmer claimed he saw two near-collisions at the same spot earlier that day as cars tried to overtake. He added: "We have not had a crash at that spot for a number of years, but overtaking is a problem."
The car and van were travelling in opposite directions of the A9 when the collision happened. The road was closed near Kingussie, seven miles south of Aviemore, for seven hours while the crash was investigated.
Fire crews from Grantown on Spey, Aviemore, Kingussie and Newtonmore attended.
A police source said: "It could be several days before the identity of those involved can be revealed, given the nature of the blaze."
IN DETAIL: