Charity rower to begin New York to Stornoway odyssey in late May
Niall Iain MacDonald will row almost 3500 miles across the Atlantic over three months.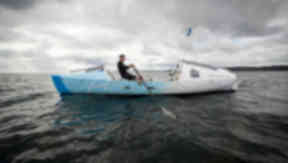 A charity rower planning a solo voyage between New York and Stornoway will set off at the end of May.
Niall Iain MacDonald is attempting to raise awareness of mental health issues by rowing nearly 3500 miles across the North Atlantic on a route no one has ever attempted before.
The adventurer says he is well aware of the scale of the task ahead and of the risks to his own life, but is as prepared as he can be after ten months of training.
Mr MacDonald chose to raise £100,000 for the Scottish Association for Mental Health after struggling with his own mental health issues in the past.
He says at the heart of the challenge is a determination to succeed and to help others who have suffered similar troubles to his own.
The voyage has been planned since 2011 and Mr MacDonald plans to set off from New York at the end of May before arriving at Stornoway at the start of September.
In 2008, Mr Macdonald successfully rowed 46 miles across the Minch, between the Outer Hebrides and the Scottish mainland, but the row from New York to Stornoway is more than 70 times as long.
He said: "The weather will happen and I'll just have to deal with that, maybe I should be a bit more worried about myself.
"I'm the weak link in all this. With my own history of mental health I'm well aware that I'll probably have days when I'll struggle out there, but I'm better equipped now to manage those days and see a way through.
"A good thing I was told early on is that 'every storm does pass' and that's true for my mental health and many other things I'll encounter during my row."