Is this Nessie? Satellite image captures 'monster' swimming in loch
Fears were growing the monster had died after no one saw her in 2013.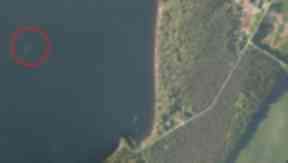 A satellite image is thought to capture the Loch Ness Monster gliding through the water – more than a year since the last sighting.
Fears were starting to grow the mythical creature had died after no one captured images of her in 2013.
Now, satellite pictures which show a creature swimming below the surface of the loch just south of Dores have been found in Apple's map app.
The photographs, which could only be seen on some iPads and iPhones, were spotted by two different amateur Nessie hunters, Peter Thain from Northumberland and Andy Dixon from County Durham.
Mr Dixon said: "It was purely by accident that I came across the image. I was trawling through satellite transmissions of different parts of the country and I thought I would try Loch Ness.
"I could see something big under the water and I saved it to my phone. My first thought was that it was the monster and I contacted Gary Campbell of the Official Loch Ness Monster Club.
"I was a believer in Nessie even before this but I had never seen it. Now I am so excited, I can't wait to get up north and pay a visit - with a camera of course. Unfortunately I have not seen anything since but I will keep looking."
Veteran Nessie-hunter Mr Campbell said there is no way the shape in the water can be anything other than the monster.
He said: "We first received Peter's information at the back end of last year but took some time to try to work out what it was. Initially it was difficult because it doesn't appear on all online satellite images - only some of them on Apple products.
"When Andy got in touch at the beginning of the year, we finally managed to locate a device that had the image on it and asked some boating experts to look at it. They confirmed that while it looks like a boat wake, it cannot be a boat as there is no hull or superstructure visible. This is confirmed by the fact that there are clear images of other boats in the pictures.
"Whatever it is, it's just below the surface and heading south so unless there have been secret submarine trials going on in the loch, the size of the object would make it likely to be Nessie
"After Nessie 'going missing' for 18 months, it's great to see her back. Furthermore, the use of satellite technology means that if Nessie is just swimming below the surface like in this case, we can still pick her up."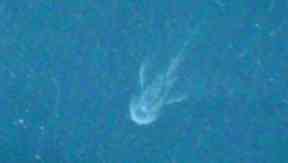 Due to the lack of sightings last year, bookmakers William Hill who offers a £1000 annual prize for the best Nessie sighting, are doubling this year incentive because it went unclaimed last year.
Nessie was first spotted in 565AD and has been seen 1036 times in the last 1500 years.
Three sightings were reported in 2013 but they were discounted as fakes. One was a wave, another a duck and the third a picture not even taken on Loch Ness. It was the first time since 1925 there had been no confirmed reports of the monster.
Mr Campbell said: "The number of sightings has been reducing since the turn of the century but last year was the first time in almost 90 years that Nessie wasn't seen at all. Now that we have spies in the skies above Loch Ness, maybe we will get more which will whet the appetite of more down to earth Nessie hunters to come north.
"Then they can try their luck at getting that conclusive photo to prove once and for all that Nessie is alive and well."
White Witch Kevin Carlyon, who believes Nessie is a ghost, frequently casts spells on the loch and will return this summer.
Actor Charlie Sheen also plans a return visit with American TV host Jay Leno after revealing he went hunting for Nessie - with a bottle of whisky.