Mother's warning over anti-cancer vaccine
A Highland mother who claims her 14-year-old was left in crippling agony after taking popular anti-cancer vaccine urges care.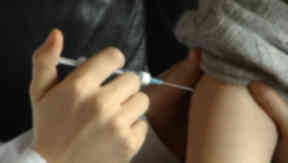 A mother is urging care over an anti-cancer vaccine she believes left her daughter crippled with pain for months.
Nairn teenager Deborah Halliday, 14, says she suffered a string of health problems after taking two Cervarix injections to protect against the Human Papilloma Virus.
The three-course injection, widely administered to 12 and 13-year-old girls since 2008, is designed to offer protection against the most common cause of cervical cancer.
Miss Halliday's mother is convinced that the severe pain and sleepless nights her daughter suffered was a reaction to the drug.
Within hours of the first injection the Nairn Academy pupil experienced muscle pain, swollen joints and stiff limbs.
Severe fatigue set in over the next three months and she also suffered chest compression, low blood sugar, headaches, dizziness and nausea.
The UK and Scottish Governments insist the vaccine is safe, despite thousands of reports of teenage girls suffering adverse effects.
Mrs Halliday said: "We both feel the same. If we don't speak out, her pain and suffering could happen to others.
"Other children have had it with no reaction, but it's maybe not a vaccine that is suitable for everyone."
Mrs Halliday claims that any warnings of potential side effects were minimal.
A spokesman for GlaxoSmithKline, which produces the vaccine, said: "Any suspected adverse reaction related to vaccination can be very distressing and we take these reports very seriously.
"The UK medicines safety agency regularly reviews all reported suspected adverse events and has concluded that no new or serious risks have been identified during use of Cervarix in the UK, and that the balance of benefits and risks remains positive."
Abhayadevi Tissington, NHS Highland nurse consultant in health protection, said: "The evidence shows it is safe.
"Immunising girls before they become infected with HPV could prevent up to 400 deaths per year in the UK."