Helicopter rescue for family stranded on boat near Isle of Islay
Royal Navy helicopter called to help father and two children on Sunday evening after their boat lost power.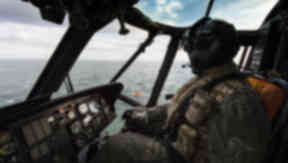 A father and his two children were rescued by helicopter after their boat drifted off course near the Isle of Islay on Sunday.
The inflatable dingy had been sailing from Northern Ireland's Rathlin Island to Port Ellen on the Isle of Islay when the power failed and the boat began to drift.
A duty helicopter from HMS Gannet in Prestwick and a lifeboat were called to the scene around 7.45pm and found the vessel with thermal imaging cameras.
HMS Gannet's duty observer Lieutenant Angela Lewis said: "As you can imagine, searching for quite a small vessel in the vastness of the sea like that is pretty challenging, but the VHF radio signature was readable on our instruments and it allowed us to close the net more accurately.
"Once we were much closer to their location we were able to use thermal imaging to pinpoint them.
"Our aircrewman petty officer Alan Speed was winched down to the boat and, within 15 minutes, with the agreement of the father, had winched the two children up to the helicopter – the Port Ellen lifeboat was still 40 minutes away and dad stayed with the boat so that it could be towed back to harbour, while we delivered the children back to their mum at Port Ellen at 9pm – which really was quite an emotional reunion.
She added: "No one was hurt, though everyone had got quite cold and obviously the children were a bit scared and tired.
"We respond to a lot of very difficult and unpleasant call outs, so it was genuinely a pleasure to know that the outcome of this rescue was all good news."