Rescued Atlantic rower facing £8000 bill to retrieve lost boat
Niall Iain MacDonald had to be rescued 50 miles off the coast of Shinnecock in New York.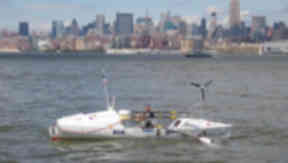 A charity rower forced to abandon a solo trip across the Atlantic after he was injured in a storm has been reunited with his vessel.
Niall Iain MacDonald, 39, planned to raise awareness of mental health issues by rowing nearly 3500 miles across the North Atlantic.
But the broadcaster had to be rescued 50 miles off the coast of Shinnecock in New York after injuring his head and back in a storm.
His vessel, the Alliance Trust, was left adrift and was later recovered 120 miles east of Atlantic City. Mr MacDonald now faces an £8000 bill to get the boat back and has appealed to his supporters for help.
He told followers: "I headed out late on Sunday night from Atlantic City on a salvage boat to go and recover it from the ocean.
"We found her adrift 120 miles east of Atlantic City and after a 26-hour round trip, she is now safely in harbour.
"She suffered some slight damage during the recovery but is otherwise as I left her on Friday afternoon. I am now faced with a salvage bill for £8000 which I am very much struggling to pay.
"I feel that I had no option other than to use a salvage boat while my boat was still relatively close to land, she was actually on the very limit of where most boats would go. Had I left her out on the ocean she could have drifted anywhere and been lost completely. There was also the danger of her being claimed by someone else, which would be legal under salvage laws.
"Again she would have been lost. I phoned fishermen, yacht clubs, marinas, fishing charter boats and anyone else that I could think of but none could help as the boat was so far out. Getting a salvage crew was my only option."
Mr MacDonald was forced to abandon his crossing after he was injured in a fall at 4pm on Friday, nine days into his trip.
He fell into the oar storage stanchions and hit his head before tripping backwards into the footwell of the boat.
Mr MacDonald later discovered he had suffered an acute muscle spasm in his lower back and decided against restarting his journey.