Missing guide dog may have been taken in by member of public
Tess the golden retriever disappeared after a run with her owner in Nairn on July 23.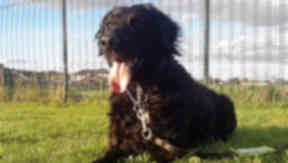 A guide dog missing for more than a week may have been taken in by a member of the public.
Tess disappeared after a run with her owner, Fraser Stevenson, near the Old Cemetery in Nairn on July 23.
Guide Dogs Scotland (GDS) have appealed to anyone who may have seen the six-year-old dog to come forward.
GDS spokesman, Niall Foley, said: "Our priority is to find Tess and reunite her with her owner
"We believe she is with someone, who may have taken her in for safe keeping, with the best of intentions.
"The bond between a guide dog owner and guide dog is truly amazing. They are far more than companions – they allow the guide dog owner to get out and about in their community and enjoy the same freedoms of movement as everyone else.
"Our primary concern is to find Tess so we can reunite her with Fraser, who is understandably distraught."
Mr Stevenson said the days since Tess went missing have been "desperately distressing".
"The past week has been a nightmare. As the days have gone I've just felt more and more frantic. I'm really worried about Tess."
Tess is black with brown eyes. She is microchipped and was wearing guide dog identification tags on her collar when last seen. Anyone with any information has been asked to contact Guide Dogs Scotland on 0800 688 8409.