Island airport voted world's most stunning landing spot
Barra Airport in the Outer Hebrides came top of a global poll of pilots and travellers.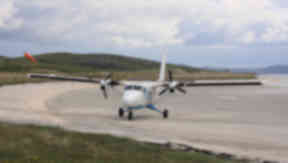 A tiny Scottish airport on the edge of the Atlantic Ocean has been voted the world's most stunning landing spot.
Barra Airport in the Outer Hebrides came top of a global poll of pilots and travellers.
It beat tourist hotspots such as St Barts, the Maldives and Gibraltar to be named the most scenic place to land in a plane.
Barra's Cockle Strand on the northern tip of the island serves as a runway when the tide is out. It is unique as the only beach in Europe that doubles up as an airport.
Established in the mid 1930s, it's long been a favourite landing spot of Prince Charles, who worked on the islands as a boy.
Michael Galbraith, station manager for Barra Airport, said that being voted number one was "a wonderful accolade" for the airport. He said: "To be up against some of the most beautiful parts of the world such as the Maldives and St Barts is testament to Scotland's stunning scenery.
"The landing on the beach is certainly one of the most unusual in the world. When competing against large scale airports, it goes to show that when it comes to a stunning landing, small can definitely be more beautiful."
More than 1000 people voted in the poll by private jet hire booking network PrivateFly.com. Barra received just over 22% of the vote, the most overall.
One Barra fan commented in the poll: "Beautiful scenery and it's a once in a lifetime opportunity to land on a beach."
PrivateFly CEO Adam Twidell, an experienced pilot, added: "A thrilling view on approach is a huge part of the joy of flying -for passengers and pilots alike - and Barra certainly delivers this.
"The voters have reminded us all that flying can be a thrilling highlight of any journey, not just a means of getting there."
The top three destinations in the poll were: 1. Barra airport (Scotland, UK) 2. London City Airport (London, UK) 3. Jackson Hole Airport (Wyoming, USA).