Two drivers to pay out over double fatal crash
A court rules two drivers equally responsible for a fatal crash between a car and camper van near Dalwhinnie in 2007.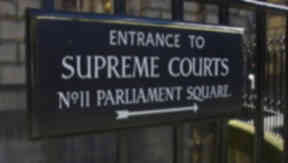 A court has ruled that two drivers were equally responsible for a crash which claimed the lives of two people.
James McKinlay and Elizabeth Hall died when the Peugeot 307 car they were in crashed head-on with a camper van on the A9 road near Dalwhinnie.
The mother of 13-year-old Kaya McInnes, who was seriously injured in the same crash, took two drivers to court over the accident, on March 24, 2007.
Richard McNicoll and Ronald McLean have already been convicted of careless driving at Inverness Sheriff Court over the crash.
Leonora McInnes took legal action against the pair arguing that they were responsible for the crash which left her daughter, who was also in the Peugeot 307, seriously injured.
The Court of Session heard that Mr McNicoll, now in his 70s, was driving a camper van north when he was overtaken by a white van being driven by Mr McLean.
The van then overtook another three cars despite the fact the Peugeot 307 was coming towards him, and the string of cars behind him had to brake to let the van slip back into the right lane.
Mr McNicoll's camper van was travelling too close to the car in front, which meant he did not have enough space to brake, and as he swerved right to avoid hitting the car ahead of him, he crashed into the Peugeot coming in the other direction.
Both men had already agreed that they would pay damages to Ms McInnes, but asked the Court of Session to decide who was most responsible for the accident.
The judge, Lord Doherty, found that both men were "joint wrongdoers".
The van driver, Mr McLean, decided to overtake when it was not safe and put others at risk, the judge held.
Mr McNicoll was also responsible because his camper van was too close to the car in front and because he steered right into the path of another car as he tried to avoid an accident.
The pair will pay equal amounts of damages, the court held. It is not clear how much they will pay to Ms McInnes.