Energy giants 'should be barred from infrastructure decisions'
Former UK energy minister in call to end 'scandal of massive vested interests'.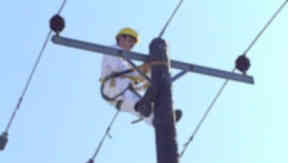 Scottish Power and SSE should be stripped of their role in making decisions about grid investments in order to address the "scandal of massive vested interests", according to a former UK energy minister.
The call by Brian Wilson follows a decision by French company GDF Suez to pull out of a proposed wind farm in Lewis because of continuing delays in providing a subsea cable to the mainland.
Shetland and Orkney are subject to similar uncertainties.
Writing in the West Highland Free Press, the former Labour Minister describes the seven year delay in reaching a decision on the Western Isles link as "an absolute scandal".
He goes on to call the role of SSE, which owns the infrastructure company Scottish Hydro Electric Transmission Ltd, as a "scandal-within-the scandal".
Mr Wilson wrote: "The question of whether or not a subsea cable is laid between the Western Isles and the mainland in order to facilitate the development of onshore and offshore renewable energy is a fairly major issue of public policy. SSE/SHETL is, on the other hand, a ruthless and self-interested commercial concern.
"The logic of these two statements is that SSE/SHETL should have absolutely no hand, actual or potential, in the decision-making process. Yet they most certainly do."
In their other role as developers, Mr Wilson argued, SSE "have massive vested interests in where infrastructure investment takes place and, by extension, where it does not have priority".
There has already been a seven year delay in a decision being reached on whether or not a cable should link Lewis with the mainland, thereby allowing renewable energy investments to proceed.
As well as two wind-farm projects which have been giving planning consent, Lewis is seen as vital to hopes for development of a wave-power industry in the UK.
The electricity regulator, Ofgem, says it is still waiting for SSE/SHETL to present a "needs case" on which a decision about the Western Isles link can be made.
Developers are also waiting for decisions on the level of subsidy that would be paid for island generation and the cost of using the cable.
Mr Wilson says that the role of SSE and Scottish Power as infrastructure providers is "a matter of historical accident which is long, long overdue for addressing" and called for a "short, sharp investigation by a Parliamentary committee".
A spokesperson for Scottish Hydro Electric (SHE) Transmission said: "SHE Transmission does not decide where grid investments take place, that is the role of the regulator.
"SHE Transmission has made clear that it will submit a needs case to Ofgem when there is certainty about which renewable energy developments will be built, where they will be built and what their capacity will be.
"Until then it is impossible to write a needs case which balances the need to get renewable energy from the Western Isles to the market and also ensures that billpayers get value for money."