Santander to invest millions in community-run renewables project
Bank will lend 70% of the £15m needed for a three-turbine scheme near Stornoway.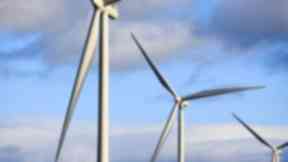 One of the largest banks in the world is set to invest in community-run renewable energy projects after being hugely impressed with a wind farm in the Western Isles.
The Santander banking group has agreed to lend about 70% of the £15m for a three-turbine scheme on crofter's common grazings.
The Point and Sandwick wind farm on the outskirts of Stornoway will be Britain's largest 100% community owned wind farm.
Construction on the 9MW energy development is under way and is expected to save 13,600 tonnes of CO2 annually after it starts generating power in 2015.
Enough energy for over 6000 homes should be created returning a gross turnover of around £3m annually.
All profits will go into a community development fund - estimated to be around £48m over 25 years.
The profit will be reinvested into community projects including 350 homes, providing local villages amenities and job creation initiatives.
The Bethesda cancer hospice in Stornoway will receive a £20,000 donation every year.
Keith Wilson of Santander Bank toured his latest investment in wet and windy conditions on Friday.
With Beinn Ghrideag hilltop buffeted by squally showers Mr Wilson acknowledged the site was ideal for wind turbines.
Mr Wilson said: "We think the project is great and it really ticked all the boxes for us. Renewable energy is a big part of what Santander does globally."
He said the bank decided to invest after being impressive by the people involved.
He said they were "encouraged by how enthusiastic" they were and the advanced stage of their plans.
Ploughing the profits into helping the community is a big attraction, he added.
He said the project resonates with how Santander likes to support local businesses.
Donald John Macsween, general manager of Point and Sandwick Development Trust said: "This will be Britain's largest wholly owned community wind farm with about £15m of investment which I believe is one of the largest private investments in the Western Isles.
"It's taken about nine years for us to get to this stage but now the turbine sites are being built.
"By this time next year we will be pumping money into the local community."
Though the Point and Sandwick district is miles away beyond the other side of the town, crofters have traditional grazings and peat cutting rights at the back of Stornoway to compensate for the shortage of pasture in their own area.
The community wind scheme will neighbour a giant 36-turbine wind farm being progressed by Lewis Windpower.
Critics point out that 25-times more profit would be generated for local projects from community-owned turbines.
The governing board of the Point and Sandwick Trust is elected by the community and membership is open to all electors in the area. Grazings committees are also represented on the board, along with the two local community councils.