Sheriff urges tighter rules after inquiry into death of mountain guide
Graham Paterson, 60, went missing and was found dead in Glenbrittle near the Cuillin Hills in 2012.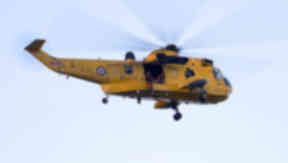 A sheriff has urged the Scottish Government to tighten rules after an inquiry into the death of a mountain guide.
Graham Paterson, 60, went missing in Glenbrittle near the Cuillin Hills in December 2012.
A major search involving an RAF rescue helicopter and mountain rescue teams was launched for the guide following his disappearance.
Mr Paterson's body was found on December 29 following an extensive search of the area.
A fatal accident inquiry was held into professional mountain guide Mr Patterson's death at Portree Sheriff Court on August 5. The findings of that inquiry have now been published.
Mr Paterson took a client, Ms Ildiko Kerek, on a hill walk on the Cuillin Hills after she contacted him through his business website.
They left on December 2, 2012 and after two hours, Mr Paterson and Ms Ildiko Kerek reached the snow line and snow began to fall.
The terrain was a boulder field and the rocks were slippy because of snow and ice then in began to snow heavily.
They began climbing up a steep scree slope which was covered in ice and at about 1pm they stopped on a ledge for lunch, although Ms Kerek was unable to eat her sandwiches because they were frozen solid.
The inquiry heard that they began climbing up a gully with a frozen waterfall. The gully slope was covered in ice and snow.
They were both using their crampons and ice axes. Ms Kerek complained that it was too steep and difficult for her.
She said that she wanted to go back down. She began to do so, but immediately noticed that Mr Paterson had slipped and began falling very rapidly down the slope.
The FAI heard Ms Kerek was very frightened. Nevertheless, albeit with considerable difficulty, she managed to retreat downwards and eventually found Mr Paterson behind a rock.
He was in a kneeling position. It was obvious to her that he was badly injured. She said that she would go for assistance.
She asked him which mountain they were on but he was unable to speak in reply. One of his hands was uncovered. She tried to cover it with a woollen glove.
It was clear that he was seriously injured and a mountain rescue team were contacted. Two days later on December 29, Mr Paterson's body was found.
An experienced mountaineer who gave evidence was told of the circumstances of the day.
He said that "the point where Mr Paterson had fallen" was a technically challenging route which he categorised as a grade 4 winter climb.
The sheriff's findings went on: "The route from there to safety would be challenging and complex, given that it would appear as if there were several routes but which would all look the same. In his view, Ms Kerek should not have been where she was: "if someone is asking to go winter walking, it should be winter walking."
The sheriff also made recommendations to the Scottish Government following the inquiry.
They read: "Consideration should be given by Scottish Government and relevant stakeholders to discovering a means, whether statutory or otherwise, to ensure that mountain guides in Scotland are properly qualified and equipped to provide a commercial mountain guiding service for adults.
"The relevant authorities should inform the public of the importance for amateur climbers and hill walkers of at least two members of any party being fully equipped to deal with the possibility of an accident occurring to the leading member of the party."
A spokesman for the Mountaineering Council of Scotland (MCoS) said: "The MCoS wholeheartedly supports any recommendation to implement a statutory obligation for those who advertise themselves as guides in the mountains of Scotland to hold appropriate mountaineering award for the terrain they are operating in.
"At the moment there is no such statutory requirement and it is alarming that anyone can advertise their services as a 'mountain guide' and take people out into challenging mountain terrain without a qualification.
"It would be unthinkable in our society for a doctor to operate without the appropriate qualifications, yet in the mountaineering world this is happening on a regular basis still.
"A formal and structured pathway does exist for people who wish to take others out into the mountains in a paid capacity. These mountain training and assessment awards are administered by Mountain Training UK and the minimum award which that organisation would regard as suitable for taking clients into the rugged and complex terrain of the Cullins of Skye is a Mountain Instructor Award.
"But, sadly, many people looking to use a guide will not be aware of this and can be attracted by a glossy website and cheaper daily rates.
"The MCoS recommends that anyone considering seeking professional assistance in the UK mountains ensures that the person holds the appropriate qualifications recommended by Mountain Training UK."