Bones found on Lewis beach washed down from churchyard
Rib bones were found on the Braighe causeway at Aignish last week after recent storm.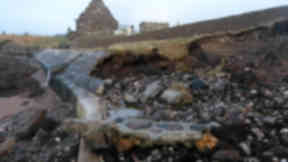 Human bones found on a Western Isles beach last week have been traced to an ancient churchyard.
Rib bones found on the shoreline were washed down the cliffside at the Ui Church on the Braighe causeway at Aignish, near Stornoway, during the recent "weatherbomb" — and may be 600 years old.
It has now emerged the entire church and graveyard are in danger of being lost unless funding of £250,000 can be found for a coastal protection project.
 Eaglais na h-Aoidhe, to give the church its proper Gaelic name, was dedicated to the missionary St Columba and its details are recorded in a papal letter of 1433. Although there are many churches dedicated to St Columba in both Ireland and Scotland, it is thought the chapel of the Ui Church may have been built after the Reformation of 1560.
 A local charitable trust was set up in January 2001 to help save the historic site and to bring it back into community use. It now safeguards the ruin and Mrs Liz Chaplin, the secretary of the Ui Church Trust, confirmed the bones had been exposed and that Historic Scotland was advising them to help save the site.
"The bones can be seen on the shoreline under the church so the police were notified. They will be tucked back in, set in concrete and effectively reburied," she said.
The main church building survived the storm well as sheet piling was put down in 2006 and remortatring was done in 2012.  However, trust members are aware that the next storm could undermine the site and endanger the church building.
Mrs Chaplin added: "We have met with the landowner, the Stornoway Trust, and have formed a joint working group. Large boulders, known as rock armour, may now be used to secure the site from more damage and engineers will consider the insertion of more sheet piling.  It could get worse at any time but we are being guided by Historic Scotland."
The challenge is likely to be the cost as the rock armour alone could cost in the region of £200,000. 
"It is a complicated engineering challenge. We applied for landfill tax revenue for more sheet piling. We were looking for £69,000 but only got £25,000. However, there are ways the Scottish Government can give emergency funding to certain projects."
A Police Scotland spokeswoman said: "Police have been informed of this matter by the council and will continue to liaise with the regional archaeologist, providing assistance if necessary."