Tighter controls for marshals and media after spate of rally deaths
Three spectators died at the Jim Clark Rally last May and a child was injured at the Highland Snowman Rally in 2013.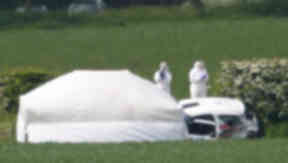 Race marshals, spectators and the media face tighter controls at motor sport rallies in Scotland following a spate of deaths in recent years.
Three spectators died at the Jim Clark Rally last May and in 2013 a spectator died and a child was injured at the Highland Snowman Rally, prompting a safety review into the sport.
The review was carried out by Police Scotland and the Health and Safety Executive, with input from former world rally champion Robert Reid and Formula One veteran Sir Jackie Stewart.
Race marshals, who previously took part on a voluntary basis with no statutory power to order uncooperative spectators and media around, will now be required to obtain a mandatory licence, and Scottish Government funding will be provided to pay for police back-up if required.
Press photographers will now be subject to strict accreditation, including the requirement to wear numbered tabards so they can be more easily identified.
Other recommendations include ground rules drawn up for spectators, marshals and competitors on assisting cars back on to the road, improved communication with spectators and the recommended adoption of international standards for identifying low, medium and high-risk spectator areas, and stricter control of marshalling numbers.
Three-times Formula One champion Sir Jackie said: "In the history of motor sport, for many years safety was seldom on the agenda internationally.
"However, more recently motor sport has been an excellent example of effective risk management, with the sport safer than ever.
"Risks remain, as was demonstrated all too tragically at last year's Jim Clark Rally.
"I believe that what has been achieved in Scotland will be an example that will be taken up on a global basis by the sport of rallying, including the world governing body the FIA and UK governing body MSA."
Jacques Berger, head of the safety department at international motor sport governing body FIA, said: "Safety is treated with the utmost importance across all our motor sport disciplines and naturally we support any measures that help safeguard competitors, volunteers, officials, spectators and media.
"The Motor Sport Safety Review Team's research, in conjunction with the Motor Sports Association and many of the sport's stakeholders, has been extensive and I am sure the implementation of their recommendations will further increase safety on multi-venue stage rallies, not only in Scotland but the UK as a whole."
Scottish sports minister Jamie Hepburn said: "As we unveil the final recommendations of this review group, our thoughts are with the friends and family of the people who lost their lives in these two accidents.
"Rallying has a long and proud history in Scotland, but the tragic events at the 2014 Jim Clark Rally and 2013's Highland Snowman event demonstrated that action had to be taken.
"There will always be an element of risk connected to motor sport, but Scotland must take the lead in ensuring that we live up to our history of world-class input to the sport and have the best spectator safety controls in place.
"I believe that the review group has brought us a package of measures that will bring about a considerable improvement in spectator safety.
"I look forward to working with the governing body of the sport, the Motor Sports Association, to make these recommendations a reality."
Download: The STV News app is Scotland's favourite and is available for iPhone from the App store and for Android from Google Play. Download it today and continue to enjoy STV News wherever you are.
Join in: For debate, chat, comment and more, join our communities on the STV News Facebook page or follow @STVNews on Twitter.
Updates: Would you like STV's latest news update in your inbox every morning? Choose from our range of regular e-newsletters here