Minority political parties form coalition to rule Highland Council
The Liberal Democrats, SNP and Labour have joined forces to form a coalition at the northern local authority.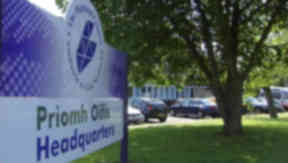 Minority political parties have formed a coalition to knock independent councillors out of power in the Highlands.
The Liberal Democrats, SNP and Labour have agreed to run Highland Council together, with a 44-36 majority following a series of inter-party talks over the past few days.
Drew Hendry, SNP group leader, said: "I'm delighted. We will get a lot of important work done for the Highlands and I think it's very important that we're able to take forward the programmes that we put to the people and we'll be able to get together and deliver on those comprehensively.
"We've put together an administration which we believe will be in the best interests of the Highland people.
"We are putting aside political differences to make sure we deliver the best possible services for our people."
Mr Hendry offered no guarantee that any independent councillor would secure senior positions on any of the authority's strategic committees, saying that the new alliance would "work co-operatively across the chamber on issues that are important to the Highland public".
Helen Carmichael, a senior member of the group of independent representatives, said: "Politics has finally buried democracy in the Highlands, where so many people voted for independent councillors.
"It's also disappointing that people who have, in the past, been quite vile to each other across the chamber and have written some derogatory things about each others' parties, are now joining hands."
The new coalition of 22 SNP, 14 Lib Dems and eight Labour members are expected to hold a news conference on Wednesday.
Lib Dem group leader David Alston confirmed that the choice of partnership evolved during the course of negotiations and was no foregone conclusion.
He said: "I'm very happy with the deal. The majority of people in the Highlands elected party-political councillors. There are differences between us, but I think we can set aside these differences and work for the greater good of the Highlands.
"We believe there is a lot in common within the manifestos and that we can put together a visionary programme for the Highlands."
Senior independent councillor Isobel McCallum warned that the new combination of SNP, Lib Dems and Labour would open the doors to a flood of windfarms.
She said: "It's an SNP dictatorship and a mandate for wind turbines to dominate the Highlands and I think that's what will happen.
"It's a very sad day for the Highlands in that political parties who are diametrically opposed have come together to defeat the Independents – who the Highland electorate wanted to govern them.
"I'm astounded by the Lib Dems and Labour, who have sold their souls."