Man who saved pregnant woman clinging to window at theatre speaks out
A man who pulled a pregnant woman to safety at the Bataclan theatre in Paris has spoken out.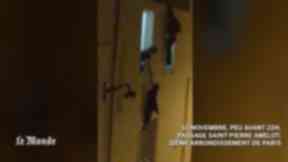 A man who pulled a pregnant young woman to safety when she was clinging to a window ledge at the Bataclan theatre in Paris during Friday's terror attack has spoken out.
Dramatic footage captured the moment the woman, who has not been identified, dangled from the window and shouted for people running for their lives below to catch her.
Inside, gunmen were taking hostages and killed 89 concert-goers.
A man was seen in the footage helping the woman back inside and he has now told a French newspaper about the incident.
Identified only as Sebastian, he said he saw her as he ran from the killers.
"She was begging people down below if they would catch her if she jumped," he said. "But it was chaos down there. We were 15 metres above the ground.
"I held on for five minutes and then the pregnant woman, who was exhausted, begged me to help her get back inside. That's what I did."
Sebastian and the woman then separated and he was captured by a gunman before eventually escaping when police stormed the building.
The woman is understood to have survived the attack.