Two Air France flights from US to Paris diverted over 'bomb threats'
Two Air France flights have been diverted while en route to Paris after officials received threats.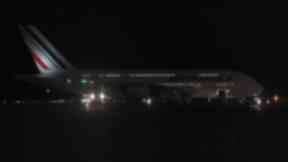 Two Air France flights have been diverted whilst en route to Paris, with more than 700 passengers and crew taken off the flights, after officials received anonymous bomb threats.
One Air France flight from Washington to Paris was diverted to Halifax, Nova Scotia.
Halifax Airport tweeted that AF 055 has landed safely and passengers are being transported to a "secure part of the terminal".
The Royal Canadian Mounted Police in Halifax said that police dogs searched the plane for evidence of explosives, but gave no further details.
In a second, separate incident an Air France flight from Los Angeles to Paris was diverted to Salt Lake City due a "security incident".
The airport in Salt Lake City said operations had not been affected, and local Utah media, including broadcaster KSL, later reported that passengers had been cleared to re-board and resume their journey.
The FBI said in a statement that no evidence was found aboard the plane "which would lend credibility to the threats" against the flight.
Air France confirmed anonymous bomb threats had been made to the airline after the flights had set off from the US, but that both planes had landed safely.