Britons donate £5m for Yemen in less than 24 hours
The Disasters Emergency Committee launched its crisis appeal on Monday.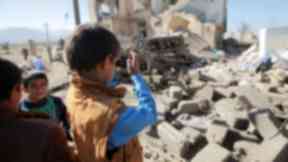 Britons have donated £5 million for lifesaving aid in war-stricken Yemen in less than 24 hours, the Disasters Emergency Committee (DEC) has announced.
A crisis appeal was launched to help millions of people left starving and in desperate situations in the country, which was among the poorest in the world even before war broke out.
More than 7 million people in Yemen do not know where their next meal will come from and children are dying from malnutrition.
The £5 million funds raised is made up of £3 million given by the UK public by text, phone and online, and £2 million from the UK government through AidMatch.
To make a donation to the DEC Yemen Crisis Appeal visit: www.dec.org.uk, call the 24-hour hotline on 0370 60 60 900. You can also donate £5 by texting the word SUPPORT to 70000.