Donald Trump: US intelligence may have leaked 'fake' dossier
The president-elect says allegations Russia obtained information about him are 'nonsense'.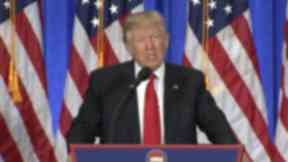 Donald Trump described unsubstantiated allegations that Russia obtained personal and financial information about him as "nonsense" and "fake news".
Speaking at his first press conference as President-elect, he questioned whether US intelligence officials were responsible for the leak and warned that it would be a "tremendous blot" on their record if that were the case.
Thanking media organisations that did not publish the dossier, he said: "They looked at that nonsense that was released by, maybe the intelligence agencies, who knows? Maybe the intelligence agencies which would be a tremendous blot on their record if they did that, a tremendous blot."
A thing like that should never have been written... and it certainly should never have been released.

President-elect Donald Trump
The report was published in Buzzfeed and included "unverifiable allegations of contact between Trump aides, Russian operatives, and graphic claims of sexual acts documented by the Russians".
Answering a question by ITV News Washington correspondent Robert Moore, he said: "Does anyone really believe that story?"
"I'm also very much of a germophobe by the way, believe me."
He said that he was "extremely careful" when he travels to other countries, adding: "In your hotel rooms and no matter where you go, you will probably have cameras.
"In those rooms you have cameras in the strangest places... You better be careful or you'll be watching yourself on nightly television."
Earlier, Trump's spokesman Sean Spicer described the claims as "irresponsible and outrageous".
He reiterated it was not an intelligence report and said that the publication of it was "shameful and disgraceful".
Vice President-elect Mike Pence said the publication of the document was "media bias" and an attempt to "demean the President-elect and the incoming administration".
"The American people are sick and tired of it," Pence added.
Trump told the press conference he is voluntarily handing over control of his business empire to his two sons Donald Jr and Eric as he prepares for presidency.