Disabled British man found dead in car with throat cut
Anthony Collinssplatt, who had one arm and one leg, found at home in Pavullo, Italy.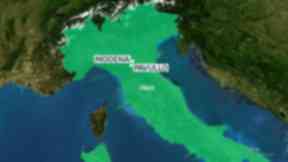 A disabled British man has been found dead in a car boot with his throat cut at his home in Italy.
Anthony Collinssplatt, 77, had one arm and one leg and was found in the back of a Nissan Micra which was running in his garage. The room was said to have been full of carbon monoxide.
According to local media, Mr Collinssplatt's body was discovered at his home on March 10 and police believe he may have been dead for at least a day before he was found.
Police were called to the property in Pavullo near Modena by his cleaner after she became suspicious when she had not heard from him for a few days. She went to the house and found Mr Collinsplatt's dog locked in but could find no trace of his owner.
Police suspect the 77-year-old could have been murdered after dismissing an initial theory that he may have cut his own throat before getting into the trunk.
A local paper said blood was found in the kitchen but no other part of the house, and Mr Collinssplatt did not have on his artificial limbs.
Mr Collinssplatt had been living in Italy for 35 years and managed an English language school in the 1970s and 80s. He lost his leg in a car accident when he was a student and his arm in a horse-riding incident.
An autopsy is set to be carried out and police are reportedly questioning his old pupils and are searching through his financial records for some kind of breakthrough.
A friend of Mr Collinssplatt's told the Guardian newspaper that he did not think that he had killed himself but the police seemed "baffled".